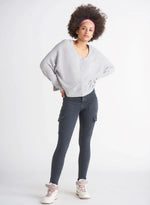 Sweater Styles Everyone Needs
Sweater Styles You Need This Season
Sweaters have been a staple in fashion for centuries, and there are many different types of sweaters to choose from. Whether it's a classic, comfy turtleneck or a bold, bright patterned cardigan, there is a sweater for every occasion. Knowing what sweater styles are on trend can help you create a fashionable and versatile wardrobe. After all, dressing for cold weather doesn't have to be boring. With the right combination of sweaters, you can get through winter in style. 
Classic Pullover
The classic pullover is one of the most popular types of sweaters. Think of it as the equivalent of a t-shirt for the cold weather months. While you can purchase them in a few different fabrics, cashmere is always a crowd-pleaser. It is extremely hard to get an outfit wrong with this classic. So, if you're looking for something that can be fashionable, professional, and comfortable, then the classic pullover is for you. 
Cardigan
It's not just your favorite Taylor Swift song. Cardigans are one of the best women's sweaters out there. Modeled after the knitted wool waistcoats that British officers wore during the Crimean war, this type of sweater has become a solid staple in the fashion world. One of the best things about cardigans is how versatile they are. Cardigans come in a range of fabrics and weights. This means you can control how warm you need it to be or what type of outfit you want it to go with. 
Duster
This long and luxurious favorite is definitely an essential sweater for everyone. Draping down to the knee, dusters can help your look feel elongated. Plus, like cardigans, you can purchase them in a variety of fabrics and weights. This versatility means that you can never have enough dusters, from cable knit to cotton. 
Aran Jumper
This bulky and warm sweater takes its name from the Aran Islands off the coast of Ireland. Traditionally, Aran jumpers are traditionally water-resistant, wool, off-white knit sweaters. Though the water-resistant and off-white origins have become less relevant in the modern world. What really makes Aran jumpers unique is their textured patterns. Each sweater typically has four to six different patterns as it wraps around the body. Thus, Aran jumpers are a wonderful way to add texture and complexity to any outfit. 
Fair Isle
Another essential sweater that brings a sense of uniqueness to any outfit is the Fair Isle knit. Named after one of the Shetland Islands, these sweaters are known for their color work. Traditionally speaking, each sweater should be made up of approximately five colors, using only two colors per row of each new design. The knit technique is called stranded colorwork, meanwhile, the notation of "Fair Isle" is reserved for the traditional patterns used in Shetland. 
Polo Sweater
These types of sweaters are definitely crowd-pleasers. Polo sweaters are defined by their signature polo-like collar. Crafted from cozy, lightweight fabrics like wool and cotton, they provide a comfortable, feminine look that never goes out of style. With features like ribbed cuffs and collars, crisp buttoned plackets, preppy stripes, and slim fits, polo sweaters strike the perfect balance between style and comfort. With a wide variety of colors and designs to choose from, they are an easy way to elevate any outfit and look instantly chic.
Turtleneck
Turtleneck sweaters are a timeless fashion statement that never go out of style. A best women's sweater, they can be dressed up or dressed down depending on the occasion. Turtlenecks can be worn with jeans and boots to give a casual look, or with a skirt and heels for a more formal look. They are also a great way to keep warm in colder temperatures. Turtlenecks come in a variety of colors and styles, from classic black to vibrant colors and prints. They can be made from a variety of materials, such as cashmere, wool, cotton, and synthetic fibers. Turtlenecks look great when paired with other pieces, such as a blazer, scarf, or hat. They are the perfect addition to any wardrobe, and are a must-have for any fashion-forward woman.
Half-Zip
Half-zip sweaters feature a partial zip up the front, allowing the wearer to adjust the fit and create a comfortable look. They come in a variety of fabrics and colors, allowing the wearer to find the perfect match for their individual style. From lightweight fleece to thicker cotton and wool, there is an abundance of options to choose from. This may be seen as a more casual look, but it is still a staple for any wardrobe. 
Hoodie
Hoodies are incredibly comfortable to wear. The plush, fleecy fabric is soft and warm but also light, making them perfect for days when you don't want to deal with the hassle of layering. Some hoodies are versatile, with neutral colors that lend themselves to any casual outfit. Others feature eye-catching graphics and unique designs, allowing you to express your personal style. Whether you're looking for a casual piece of clothing, a fashion statement, or a reliable way to stay warm, a hoodie is definitely the way to go.
Keep Warm And Carry On
Overall sweaters offer a great deal of versatility and appeal to almost any style preference. We've gone over the best women's sweaters from casual to elegant. There is truly a sweater out there for everyone. It is important to take into consideration the purpose the sweater should serve, the material it is made of, and how versatile it will be. You can make any outfit look great and be comfortable at the same time.
If you're looking for a small, women-led business to purchase your winter staples from, Pretty and All is the right fit for you. Founded with the vision of empowering all body types, Pretty and All offers a diverse selection of stylish and sophisticated items to fit any style. We deliver the highest quality products with a positive shopping environment for all. With a focus on customer service, affordability, and trend-forward pieces, Pretty and All is your perfect destination to find your essential sweaters for the season.