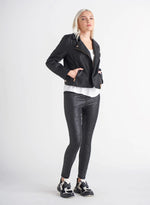 How to Style an Athletic Figure
There are many different body types and figures out there, including yours. If you think you might have an athletic shape and want to dress your body type but struggle with knowing what to wear and how to style outfits to flatter your unique shape, this article is for you. There are many options and ways you can style any figure you may possess, and having some more clarity and ideas can help you to have the confidence to rock outfits you'll love keeping in your rotation and wearing while you achieve your goals. In this article, we'll discuss the details of an athletic body type, ways to dress for an athletic build, and how to style an athletic figure with tips and ideas you can easily adapt for taste.
Athletic Body Type
Every body type or shape comes with its own unique attributes and considerations when it comes to picking out different clothing, jewelry, and accessory pieces and styling them in a flattering way. However, there are many beautiful and diverse options out there to explore and play around with if you want to dress your body type, and it can be much easier once you have a little more clarity on what body type you might possess. Some of the most common body types are triangle, hourglass, pear, inverted triangle, apple, diamond, and athletic. If you participate routinely in sports, exercise, or other athletic pursuits, you may have an athletic body type to style and plan for.
In addition to regular sports participation or exercise, you can also have an athletic figure from a certain diet or other daily behaviors. People who currently have or attain an athletic figure often consume specific levels of carbs, proteins, fruits, and vegetables and maintain strict hydration. You may also have this specific body type more naturally or easily given certain genetic and metabolic traits. With an athletic body type, you may have less noticeable curves compared to your muscular attributes, and your hip and shoulder measurements may be nearly the same. Your waist may not be particularly well-defined and tends to be more straight up and down, and your weight may be relatively even throughout your body.
Dressing for an Athletic Build
While there are many beautiful options and adaptations you can make for fashion, jewelry, and accessories regardless of your body type, knowing your body type can help you take advantage of your unique attributes and flatter them with your choices. When dressing for an athletic build, sometimes referred to as a rectangle shape, the goal is to accentuate your present curves and legs to balance out any present broadness in your upper half. One rule of thumb for an athletic shape is to maintain volume on the bottom or top, depending on your outfit. For example, if you like a more form-fitting top, consider pairing it with an oversized or breezy bottom option. If you like a more oversized top, consider pairing it with bottoms that are structured or skinny. 
With an athletic build, much of your shape may be uniform or similar, meaning you can also look great by choosing pieces that accentuate and show off specific defined, muscular features, including your shoulders, arms, waist, and hips. Some possible power piece options include racerback, strapless, halter, and round or scoop styles. Consider accentuating your present bust with styles and pieces such as embellished necklines, high necklines, statement collars, and open backs. You can opt to highlight some of your favorite body features if you're on the curvier side of an athletic figure, with styles that emphasize or elongate your collarbone, shoulders, neck, and arms. You can also de-emphasize your shoulders with a cowl, crew, or v-neck option.
Styling an Athletic Figure
There are many ways to style an athletic figure, as it often has uniform attributes. Much of choosing a style if you have this particular shape involves determining what features you would like to specifically emphasize or de-emphasize. Emphasizing and de-emphasizing your various athletic figure features involves your chosen top or dress collars, sleeve lengths, layers or wraps, dress styles, and bottom shapes or styles. There are endless opportunities to adapt and play around with these styles and others for taste, mood on a given day, or a particular event. Some pieces to consider to style an athletic figure include skinny jeans, off-the-shoulder tops, waist-defining belts, hip-length jackets, round or scoop shirts, and A-line dresses.
Skinny Jeans  
Ideal bottom pieces for a rectangle or athletic body type complement and contrast your tops. Consider pairing a baggy top, or flowing top with skinny jeans or shorts of your choice. For added dimension, length, and curviness, opt for boot-cut or flared bottoms. 
Off-The-Shoulder Top
For ideal top pieces to complement your athletic body type, you can consider an off-the-shoulder top. Off-the-shoulder or spaghetti strap tops effectively give your shoulders and bust a broader appearance.
Waist-Defining Belt
If your unique athletic figure includes a less-defined waist and hip area, consider adding one or more waist-defining belts to your regular or seasonal wardrobes. A belt worn around your waist area can define your waist while adding flair, embellishment, and personality.
Hip-Length Jacket
A hip-length jacket is a perfect complement to keep you warm in the colder months. This type of jacket can also provide opportunities to define your waist, and emphasize your hips or shoulders depending on the style.
Round or Scoop Shirt
A square neckline can emphasize your straighter figure as you desire. However, a round or scoop neckline shirt can break up your features and provide the illusion of more defined curves.
A-Line Dress
One of the best dress suggestions for an athletic figure is A-line. Consider this style to emphasize your hips and legs. A puff sleeve can also emphasize your shoulders.
Style Your Athletic Figure With Pretty & All
There are so many beautiful ways to style an athletic figure. For more ideas to style this or another shape, browse Pretty & All today.