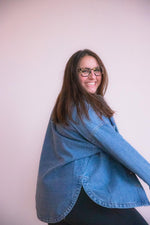 Denim: The Staying Power of an All-American Look
There's no question about it, no wardrobe is complete without denim, especially jeans. They may even be the most popular item in wardrobes across the country. So much so that a 2019 study found that the average American woman owns 7 pairs of jeans, while the average American man owns 6 pairs of jeans. But where did these must-have wardrobe pieces come from and how did they become the iconic piece they are today? Let's take a look!
What Is Denim?
Denim is a strong cotton fabric that is made using a twill weave. In denim fabric, two yarns are woven together. The weft, which is the yarn running across, is threaded over and under the yarn running downward (the warp).  This weave creates the subtle diagonal ribbing pattern you've likely noticed on jeans. The diagonal ribbing is what makes denim fabric unique compared to other woven cotton fabrics like canvas.
When Was Denim Invented?
The material we know as denim today was actually an accident! Weavers in Nimes, France were trying to replicate the process of making another fabric called serge. Instead, denim was invented! But at this time, new textiles were often named based on where they were first manufactured. So, "denim" was originally known as "serge de Nimes." As it became more common, English and French merchants shortened it to call it "denim."
Throughout the mid 19th century in America, denim was used almost exclusively for workwear for workers who needed the toughest materials. This included miners, mechanics, cowboys, and farmers to name a few.
When Were Jeans Invented?
May 20, 1873 was a monumental day in not only American fashion, but global fashion. It was the day that Levi Strauss and Jacob Davis obtained a patent for the first blue jean. Jacob Davis was a tailor who had been asked by a friend to make a pair of pants for her laborer husband that wouldn't fall apart. He called in Levi Strauss to file the patent for his invention since he purchased the material he made the first pants from him.
Although denim pants had been around for years, placing metal rivets in strategic places is what made the jeans we know today. Interestingly enough, the term "jeans" is relatively new. It only started being used around the 1960s. Before that, they were called "waist overalls" or "overalls."
Denim in American Fashion
It wasn't until nearly a century after the first U.S. patent was granted for blue jeans that denim exploded in popular American culture. But first, let's take it back a little bit.
The 1920s to 1930s
Throughout much of the 1920s and 1930s, jeans were still reserved as workwear. This was particularly true in the American West, with miners, cowboys, and other laborers leading the charge. Later in these eras, Western films brought jeans into mainstream culture. In fact, Vogue even featured its first model wearing denim on the cover in the 1930s. 
The 1950s
Now, 80 years after the first blue jean patent was granted, jeans became the cool thing to wear. So-called bad boys of the time like James Dean and Marlon Brando led this trend. It was also this same teenage audience who changed the name from "waist overalls" to "jeans." However, rebellious teenagers at the time felt like jeans were a symbol against the status quo. They felt that by wearing them, they were protesting against authority and traditional behavior. However, the fact that they were interpreted as rebellious led some school boards to ban students from wearing jeans!
The 1960s
As hippies became the popular counterculture of the 1960s, jeans followed. The youthful, free-spirited people of the time loved bellbottoms and low-rise jeans specifically. They viewed it as freedom from more structured clothing while also being a form of self-expression. This era is also the first time jean jackets and double denim became a fashion trend. You also got extra style points if you embroidered your jeans or added patches.
The 1970s
1970s Americana was all about being fresh and wholesome. The "cool girls" of the time all started rocking jeans, this time in slim fits and straighter legs. In addition, denim skirts and vests also became popular items. And to top it off, nobody can forget that Daisy Dukes were born in this era.
The 1980s
In the 1980s, designer denim truly arrived in American fashion. Owning a pair of designer jeans quickly became a true status symbol in pop culture. Brands like Calvin Klein, Jordache, and Gloria Vanderbilt were some of the most popular jeans of the time. As for the styles that were most popular, that was stonewash, acid wash, ripped jeans, and skinnier leg cuts.
The 1990s
Thanks to the growth of hip-hop in the 1990s, what was popular in denim fashion changed again. Straight-legged jeans that could be ripped (or not) were the coolest of the cool. High-waisted jeans with a relaxed fit, which are known as mom jeans, were also very fashionable. Finally, the other popular style of the time was big and baggy. In fact, the bigger and baggier, the better. 
The 2000s
At the start of this millennium, female pop stars made the ultra low-rise jean popular. Styles that were flared or bootcut were highly on-trend. In addition, the draw of designer denim grew even more than it did in the 1980s. Even more brands like 7 for all Mankind, Citizens of Humanity, and Hudson Jeans became mainstream.
The 2010s
In the 2010s, vintage-inspired jeans became must-haves. This included things like overalls, jumpsuits, and rompers. Probably the most important trend of the 2010s was skinny jeans. Unlike previous jean trends that were best for specific occasions, skinny jeans became the go-to at all times. Whether it was at work, on the weekend, or date night, there was no occasion that skinny jeans didn't work for!
Today
Today might be the era that has the most variety when it comes to jean trends. Skinny jeans are still the go-to for many because they can be dressed up or down. However, there is also a shift toward a looser fit, emphasizing comfort. The waistlines could be medium or high-waisted, the cut could be straight or boot cut, they could be ripped or not - the possibilities are endless. 
Denim Has Staying Power
Despite the fabric first being invented in France, what is denim but an all-American staple? You can incorporate it into your wardrobe in a variety of ways, depending on the era you want to evoke. No matter how you include it in your wardrobe, your options for styling it will be just about endless.