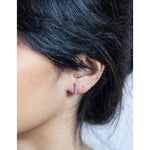 For all the new and trending fashion styles this year, one of the easiest ways to elevate your style is to look at your jewelry and other accessories. When you have good wardrobe staples already in your closet, wearing on-trend jewelry is a quick way to elevate your look right now. Focusing on the current jewelry trends is also a way to continue wearing the wardrobe pieces and outfits you already have and love while adding in some unique style that matches some of the current trends. In this article, we'll discuss some of the best jewelry trends we love and are certain you'll love too, including some of the top earring trends and other trending jewelry today.
Trending Jewelry
One of the best things about jewelry is it's never really "trendy" per se. Styles frequently come and go, but these styles always come back at one time or another. The latest runway looks that continue to define and redefine 2022 all have some form of nostalgic jewelry that they included and allowed to flourish in the fashion aesthetic their show then showcased. Some of these nostalgic trends include Y2K, CEO woman, and old money, among others. You can easily allow different jewelry trends to float throughout your wardrobe as well as give each of them a little update to suit your style and taste.
Jewelry Trends 2022
One of the best ideas for following and developing your own style choices from trending jewelry is to match your different jewels to the various colors you wear throughout a given week. Some of the top pieces to consider adding to your routine jewelry and accessories include a signet ring, classic timepiece, butterfly necklace, Y-necklace, hardware choker, and bright and playful pieces. For the latest jewelry trends for earrings, some of the top pieces for 2022 include clip earrings, oversized studs, pink earrings, and silver earrings. Each of these top jewelry trends goes great with a variety of outfits and tastes, so you can easily make them your own.
Signet Ring
A good signet ring is for everyone. With a trophy or signet ring, you can always feel like a winner, whether you play sports or not. There are many different styles to choose from with a signet ring, including rings with a colored jewel, pattern, solid gold surface, night stone, or diamond design.
Classic Timepiece
Truly timeless, a classic timepiece is a great addition to any jewelry collection. Feel free to leave your phone at home with a gold square face or a mixed metal circle face watch. The runways this year love a classic watch, which can easily elevate a minimalist look or day-to-day casual look.
Butterfly Necklace
The Y2K aesthetic is back, with some great pieces that include some early 2000s nostalgia. There are different choices for enamel, butterfly, and pink. Consider a diamond butterfly collar necklace or a brightly-colored butterfly piece to mix 2022 jewelry trends in your 2000s look.
Y-Necklace
Many looking like a bolo tie, y-necklaces can also make for a cute and sophisticated look that looks great on any occasion. Embrace a low scoop neck or low-collared shirt to show off your necklace. Consider a gold chain necklace, slim-line necklace, or stone-studded necklace.
Hardware Choker
A new take on chokers is rising, bolder than ever. Reminiscent of the 90s, chokers are back, now with more hardware. Bold and strong hardware is taking the stage with hard-to-miss thick metal chain link necklaces and large gold link necklaces layered with other necklaces. 
Bright and Playful
This aesthetic encompasses playful, whimsical, and youthful jewelry, with bright and colorful necklaces, earrings, rings, and more. Add some colorful bead hoop earrings, heart-shaped detail pieces, and some bright candy color combos that celebrate your inner confidence.
Earring Trends
There are so many great options out there each season for earrings that continue to be timeless and repeated in future seasons and years. Each year, designers add new medallions and charms to their earring collections. Each pair has a unique meaning, as jewelry can represent anything from sentimental to spiritual to pieces that symbolize strength, guidance, love, and luck. Projects keep taking shape in different designers' collections and new, distinctive incarnations. What remains the same is the creativity, inspiration, and expression you can find and show in each. The top earring trends for 2022 include clip, oversized, pink, and silver earrings.
Clip Earrings
The "old money" aesthetic is back this year, with different clip-on earrings that look straight out of your grandma's jewelry box in the best ways. You can pair this jewelry trend with a tweed jacket, other outfits inspired by the "old money" aesthetic, or mix different aesthetics.
Oversized Studs
In keeping with the "old money" aesthetic, you can also add some oversized stud earrings to your jewelry this season. Consider some chunky, twisted metal earrings, gold stud earrings, or another choice. Choose oversized for a big, bold statement when you walk out the door.
Pink Earrings
The color pink is especially popular this year among the bright, trending colors of 2022. Pink looks great in candy heart earrings and other bold pink earring options. This look is also great as a pop of color to a casual or formal outfit, or to complete a full bright and playful look. 
Silver Earrings
In addition to bright colors and chunky hardware, silver is another big jewelry trend right now. While gold has been highly popular for many years, silver is now trending and can make just as bold of a statement. Silver matches anything and looks great on a choker, ring, or sleek Y-necklace.
Jewelry Trends You'll Love Too
For some of the jewelry trends we love that are truly timeless, pick from these top choices of 2021 and 2022 from Pretty & All. Embrace bright colors, Y2K aesthetic pieces, bold metallics, and chunky hardware. With so many different outfit colors and style aesthetics you can make out of these trending jewelry pieces, we guarantee you'll love them too!