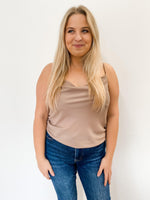 How Business Wear is Celebrating the Return to Office with Sensual Lines and Feminine Silhouettes Fit for a Night Out
Now that many of us are returning to the in-person workplace, it's time to consider what kind of style you want to wear when you head back to the office. Spring is quickly approaching, which means it's time to show a little skin in some sexy office outfits. Pretty and All has all the sexy office attire you need with sensual lines and feminine silhouettes to help you be ready to head straight to a night out from the office, whether you have a date planned or it's simply a girls' night out! 
Sexy Office Outfit
Let's be real: sometimes trying to make business casual cute can be even more daunting than staying on top of all your work emails. It can be difficult to find business wear that highlights your body, let alone pieces that feel sexy!
However, it's entirely possible to be both sexy and professional at the same time. Sexy doesn't necessarily mean skintight, skin-baring, or showing a lot of cleavage. It can be anything that makes *you* feel your sexiest. After all, if you feel good in your office attire, you are even more likely to perform better at work! Dressing for success really works. 
We have some ideas to turn plain, boring work outfits into sexy yet professional looks that flatter and accentuate your body. You will have no problem going from the office straight to your fun Friday night out on the town this spring with these outfit ideas! 
Sexy Office Attire from Pretty and All
Pretty and All has all the staples you need to create a business wear wardrobe for the spring full of feminine silhouettes and sensual lines that can take you from work to play! 
Satin Leopard Print Midi Skirt 
This gorgeous midi skirt with a leopard print is the perfect transition piece from winter to fall that will take you from meetings to martinis. The satin material is fancy enough for any Friday day-to-night activities. 
Classic Blazer 
A blazer is a classic work look that can be turned up a notch with the right top underneath. Our Burgundy Boyfriend Blazer Jacket is more interesting than basic black. Pair it with a sexy lace camisole underneath for an office-ready look with some sex appeal. 
Cowl Neck Sleeveless Tank Top 
For a neutral sexy spring look, try our Cowl Neck Sleeveless Tank Top. This neutral color is so trendy right now, and it's made in a gorgeous chiffon. Pair with a jacket, blazer or sweater and jeans or a skirt for the office, then take your top layer off as you head out the door to your fun night out! 
Black Cutout Bodysuit 
Get some Catwoman vibes with a sexy and tight black bodysuit. Our Cari Bodysuit is the perfect option! Made with mid-weight knit jersey material, it features a sexy cutout over your collarbone and a thong bottom. 
Faux Leather Leggings 
Try an extra-sexy and skintight look with our Zippered Pocket Faux Leather Leggings. These are a versatile look you can pair with a button-down shirt and a blazer for a more professional look, or a lacy top for heading out once the workday is over!  
Satin Crop Top
One of the hottest trends for spring 2022 is crop tops. If you're ready to brave this trend in the office, our Dana Satin Top is the perfect option. The sleeves balance out the crop, and the satin material keeps it classy and fancy enough for work and a night out. This is THE top of the spring! 
Ribbed Long Sleeve Henley Mini Dress
Any dress can be an office dress if you want it to be! Pair a jacket over nearly any spring dress and it can be office-ready. We love our Ribbed Long Sleeve Henley Mini Dress as a transition piece from winter to spring that can be dressed down with flats and a jacket, or up with boots and some cute jewelry for a night out after work!
Slit Skirt
A slit skirt is the best way to up the sex factor for your business wear. Our Black Slit Skirt shows just the right amount of leg and ties at the back to ensure a perfect fit. Tuck a work-ready shirt into your skirt, and voila! 
Black Skinny Jeans 
There is a reason why skinny jeans are a classic closet staple. Our Black High Rise Distressed Button Fly Skinny Jeans are a great choice for more casual days when you still want to look sexy. Pair these with a cute top and a moto jacket and you're ready to head from work to a fun night out, no quick changes in the office bathroom necessary!
More Tips for Modern Outfits for the Office and Beyond
We have some more tips to help you dress for the office and beyond this spring! 
Try All Black
Some say all black is slimming, but we think it's just downright sexy! Match black separates (maybe a black pencil skirt and a black blazer, or black jeans and a black top and heels) for a monochrome look that is chic and easy. 
Fit in Some Florals
"Florals? For spring? Groundbreaking." Well, we're going to have to disagree with Miranda Priestly on this one because we think florals are the perfect pattern to integrate into a pretty and sexy spring wardrobe. 
Add Some Sexy Jewelry, Too!
No sexy work outfit is complete without some accessories. Add some jewelry to really take your business wardrobe up a notch. Try some Gold Hoop Earrings and a Flat Snake Chain Necklace for classic options that go with any workwear outfit!
Colorful Heels 
For a pop of color ready for spring, add a pair of bright-colored heels to your wardrobe. We love yellow or bright pink! 
Find Sexy Work Outfits at Pretty and All 
Pretty and All has everything you need for your wardrobe as we all collectively figure out what to wear out of the house again this spring! We even have beautiful planners to keep you organized for the busy year ahead.