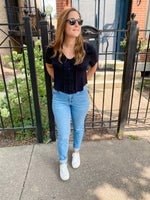 Best Ways to Dress an Apple-Shaped Body
Sometimes it feels like all we see portrayed in the media and online is one type of body shape, and it can be disheartening. We all want to see ourselves represented. However, all of our bodies are different shapes! (Yes, even some celebrities like Mindy Kaling, Kate Winslet, and Adele have apple-shaped bodies!) One of the best ways to pick flattering clothes that you'll feel good in is to know your body shape and shop accordingly. This can help you look and feel your most confident! If you have a large bust, narrow hips, and a full midsection, you might have an apple-shaped body. Just like an apple, an apple-shaped body is juicy and beautiful!  
What is an Apple Shape? 
The first step of picking out outfits that will make you feel your best is knowing your body type. An apple-shaped body is characterized by shoulders and a bust that are larger than the hips. Generally, women with apple-shaped bodies are generally fuller in the middle, with full breasts and a less defined waist. There is a common misconception that apple-shaped bodies are always heavy, and this is 100% not true! Weight has very little to do with the shape of your body. In fact, apple-shaped women also tend to have slender arms, legs, and hips. 
We'll tell you how to show off your full, beautiful figure with the best dresses, jeans, and other outfits for your body shape. Just like any body shape, the goal of getting dressed should be to highlight your best features. Don't be afraid to show off your bodacious bust or your stunning legs! 
Apple Body Shape Outfits
The key to dressing for any shape is to highlight the best parts of your body! Flaunt it if you got it. There are plenty of amazing ways to style the perfect outfits for an apple body shape to help you feel your best, from empire dresses to straight-leg jeans. We have some fabulous recommendations to help you get started, but 
Best Dresses for Apple Shape
The best dresses for an apple body shape skim over the midsection without being too clingy. Look for dresses that draw the eye to your shoulders and legs or that create a more defined waistline. You might try wrap dresses, a-line dresses, and empire style dresses. 
Empire Waist Dresses
An empire waist dress brings your waist higher than its natural placement for a dramatic and flattering look. Our Offline Smock Waist Long Sleeve Dress is a fresh take on a dress that creates a waist and gives a fun and flirty vibe. 
Off-the-Shoulder Dresses
Show off your shoulders in the summer with an off-the-shoulder dress that calls attention to your bare skin! Off-the-shoulder dresses are extremely on-trend right now. 
Wrap Dresses
Wrap dresses are universally flattering, more fitted, and create a waistline. Our Blush Ruffle Dress is a fresh and modern take on the wrap dresses that became popular in the 70s. You'll love the pretty, light color and cut of this dress. 
Bias-Cut Dresses
A bias-cut dress drapes softly so the fabric emphasizes the shape of your body, without being overly clingy. 
Best Jeans for Apple Shape
If you want to flatter your apple shaped body, or you simply want to be comfortable, we have the best jean recommendations for you: 
Straight or Slim Jeans
If you don't love wearing extremely form-fitting pants, you might like to try straight or slim leg jeans. Plus, they're extremely on-trend right now! Our Vintage Slim Straight Jeans are a classic option you can wear with anything in your closet. 
Bootcut Jeans
The slightly flared hem of bootcut jeans balances out a curvy silhouette for a flattering look. 
Skinny Jeans
Who doesn't love a great pair of skinny jeans? Skinny jeans highlight your legs. Snag a high-rise pair to create a waistline! Try our Black High Rise Distressed Button Fly Skinny Jean for an on-trend and universally flattering look. 
Flared Jeans
If you opt for a top with volume, mirror it on the bottom with a pair of flared-leg denim. Our High Waisted Black Flared jeans are a great option!
Best Tops for Apple Shape 
Any top with an open neckline is a good choice for an apple-shaped woman. 
Wrap Tops 
Just like a wrap dress, wrap tops are specifically designed to create a more defined waistline, which is key for an apple shape. Plus, they are ideal for showing off your bust! Our Long Bubble Sleeve Wrap Tunic is the perfect tunic to show off your best features. 
V-Neck Tops
A v-neck top reveals your collarbone and bust, and breaks up a uniformly shaped top half in a flattering way. Try our Secretary Top for a fun spin on a classic neckline! 
Peplum Tops 
Peplum tops are both in-style and flattering for apple figures: a win-win. These tops have a built-in waist that flows out, adding some curve to a less defined area. Our Molly Top comes in a gorgeous auburn color and features a square neck with long elastic cuff sleeves. 
Dolman Sleeve Tops 
Try tops with airy sleeves for a boost of volume to balance out your silhouette. Our Bubble Sleeve Multi Colored Sweater is a comfy yet stylish look for any apple-shaped woman. 
More Tips for Styling Outfits for an Apple Body
Here are some additional tips for styling your specific body type: 
Balance Everything Out
Use your outfit to balance your body and show off your favorite features!
Draw the Eye
Use the lines of your outfit to focus eyes where you want them to go. Use them to create curves, lengthen, or emphasize your favorite parts of your body! 
Don't Be Afraid of Color
All too often, women are told to wear black because it's slimming. However, our eyes are naturally drawn to light, bright colors and patterns, so don't be afraid to mix it up! 
Apple Body Shape Outfits at Pretty and All 
At the end of the day, the key to dressing is wearing what makes you feel good. After all, confident girls are the prettiest girls! If you need help picking out the best options to flatter your figure, we offer in-person private shopping sessions for individuals or even a small group of your friends! Whether your body is an apple shape, rectangle shape, pear shape, or hourglass, you deserve to have somewhere you love to shop that always has amazing options to help you feel your best.