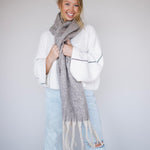 Fashion Hacks That Make You Look Polished in a Snap (And on a Budget, Too!)
It happens to all of us: a last-minute work meeting, a text asking you to meet up for drinks in an hour, or an invitation to a dinner out that comes at 5 p.m. Despite what Instagram might tell you, no one looks polished every single day! However, some fashion hacks can help you look polished in a snap—and no, you don't have to spend a ton of money on designer clothes to do it! Here are some of the best hacks for looking polished without spending thousands of dollars. 
Fashion Hacks
Here are some of our most-liked fashion hacks featuring some of our favorite options from our boutique, Pretty and All! We have the lowdown on the actual, real fashion hacks you can utilize in your everyday life. 
Try a Bodysuit! 
Bodysuits are all the rage right now, and for a good reason! A bodysuit is one of the most multifaceted items in your closet. Wear a bodysuit with a pair of jeans for a more dressed-down look or tucked into a skirt for an elevated style. (Holiday parties, anyone?) Plus, it has the added benefit of being flattering on everyone! Our Corinne Bodysuit is a classic black option that you can pair with virtually anything. 
Add Some Accessories 
Accessories are one of the quickest and easiest ways to pull an outfit together and look polished in a snap. Consider throwing on a scarf or some classic jewelry to upgrade any outfit instantly! 
Gold Necklace 
Every woman needs a classic gold necklace in her jewelry box. Try our Flat Snake Chain Necklace to add some glitz and glamour to your look. It's versatile enough to be worn every day!
Chunky Scarf
Upgrade a t-shirt and jeans (or really any outfit) with a chunky scarf over the top. Try our Navy Scarf or West End Scarf in gray or ivory. 
Bold Earrings 
Throw some Gold Hoop Earrings in your ears to look polished and put together any day of the week.
Try a Beanie 
For the days when your hair absolutely refuses to cooperate, but you need to leave the house, keep a beanie handy! Our Classic Waffle Beanie goes with everything, our Gray Fur Pom Cashmere Beanie with White Trim has some fun flair, and our Leopard Beanie is a trendier option. 
Top It Off with a Coat or Blazer 
Layers, layers, layers! Almost any outfit immediately gets more polished when you add a blazer or a classic jacket on top. (Think: how many amazing jackets did Kerry Washington wear as Olivia Pope in "Scandal?") Try our plaid jacket, black pea coat, or Belted Burgundy Trench Coat to look pulled together in a snap. 
Create a Wardrobe With Versatile Options
We all know that there are a few basics (jeans, a great white tee, a set of neutral heels, a little black dress, etc.) that we should keep in our closets. But every woman should also own a few statement items, too! We have a multitude of options you will love and can actually afford! Consider adding our Dana Satin Top to your closet for a night-out option that you can throw on and look great in just a matter of minutes. We have a multitude of options you will love and can actually afford! 
Try a Matching Set 
You can even look pulled-together in sweats if you are rocking a matching lounge set! Check out our Maroon Lounge-to-Street Cropped Hoodie & Shorts Set for a set that can make you feel put together, even in cozies. 
How to Look Put Together and Polished
Here are some of our additional tips for always looking polished: 
Pay Attention to Fit 
One of the best ways to look put together is to wear clothes that fit you well. Pretty and All is a size-inclusive boutique that offers clothing in sizes XS to 3XL. We have options to fit every woman's wardrobe! If you wear clothes that are too big or too small, you will look uncomfortable and unpolished. Let yourself shine by wearing clothes that really fit you. 
Invest in Quality Pieces You Actually Want to Wear
It is easiest to look put together all the time when your wardrobe is full of clothes that you love and can't wait to wear. Pretty and All carries all the essentials you need (and some fun extras) at a reasonable price to help you love everything you wear. 
Keep It Simple
Most of the time, women who look polished aren't wearing clothes with logos and brand names on the front. Keep your clothing items basic and simple to look more polished! A classic look never goes out of style. As Yves Saint Laurent once said, "Fashion fades, but style is eternal." 
Wear What You Love 
If you head out for a meeting, dinner, or drinks in an outfit you don't really love, you won't feel polished or comfortable, no matter how trendy or cute you look! You will feel most confident in the clothes that you love and are comfortable wearing. 
Accept Yourself! 
Carrie Bradshaw (the queen of style!) once said on "Sex and the City": "I will never be the woman with the perfect hair, who can wear white and not spill on it." Sound familiar? At the end of the day, the most important thing is to accept yourself and dress in a way that makes you happy! We all love to buy a piece for when we lose those last few pounds, but if you shop and dress for your current body, you will feel much more comfortable in your skin. Who cares what size a tag on the inside of your jeans says?! 
Fashion Tip for Girls
At Pretty and All, we not only have affordable, classic fashion for women of all shapes and sizes, but we also have a blog with plenty of fashion tips to help you hone your own individual sense of style. Come in for an in-person private shopping session for yourself or with your friends to get some assistance choosing clothes that you will love!