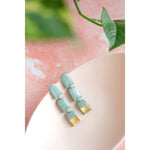 Petite Clothing: Brands with the Greatest Variety and Selection
Raise your hand if you've ever been victimized by clothes that were way too long for you, "Mean Girls"-style. Whether it's tops that are way too long for your short-girl torso or jeans that you are endlessly getting tailored because they are just too long, it can be a struggle being small! However, petite size is the perfect answer for women who are under 5' 4." Stop shopping for your clothes in the junior's section and instead, check out some great petite options. Pretty and All is a size-inclusive boutique that offers a hand-curated selection of pretty things for women of all sizes. My goal is to leave our website with something you really love, can't wait to wear, and can fit in. 
What Is Petite Size? 
Petite size in the fashion industry is all about height. Many people don't realize there is an actual definition of "petite." Petite sizes are designed for 5' 4" and under women, regardless of their size. Typically, petite clothing features styles with tailored inseams, hemlines, torsos, and more to flatter a shorter frame. 
A common misconception is that petite refers to weight. Sizes in the petite category can actually range from extra-small to plus-size. Petite women come in all shapes and sizes, from size 0 to size 16. If you're on the shorter side, you're in good company. Some famous petite women include Kim Kardashian and Scarlett Johansson. 
But how did the term petites come about? Here's a fun fact for your next dinner party: the term "petites" was coined by the fashion designer Hannah Troy in the 1940s. Troy noticed that many women were wearing too large garments for their short frames, and she began making clothes for shorter women that actually fit. She borrowed the term "petite" from the French, and the rest is fashion history. 
Now, you can find petite sizes in many (well, some!) of the shops you patronize. The petite size enabled shorter women everywhere to find clothes that actually fit them and match their style. Women's petite apparel is designed to help you look and feel great in clothes designed for your height. Pretty and All is all about helping women on this journey to find classic, trendy pieces they love! We have petite clothing for every season and every event. 
Where Can I Find Women's Petite Clothing?
Many retailers offer petite clothing for women. Pretty and All is the perfect place to shop, no matter your size. We offer plenty of wardrobe staples and trendy petite clothing for all women. When you browse our website, you will see real women wearing your buying clothes. 
Trendy Petite Clothing
Though, of course, every body is different, there are some fabulous trends right now that work particularly well on petite women. Here are some of the best trends in petite clothing to try: 
Long Jumpsuit 
A jumpsuit is the perfect trendy option for petite women. A one-piece jumpsuit creates an unbroken vertical line that can lengthen your frame. Jumpsuits are automatically dressy and easy to style. You can wear a jumpsuit to work, to a cocktail party, or anywhere you need to go! The right jumpsuit can become one of the most versatile and flattering pieces in your closet. 
High-Waisted Jeans
Every woman needs at least one set of great jeans in her wardrobe. For petite women, high-waisted jeans being trendy right now is amazing news! That's because the high-waisted style is flattering to women with shorter legs. After all, it makes your waistline look higher than it actually is. Try our Black High Rise Distressed Button Fly Skinny Jean! 
Belted Jacket
Rather than letting chunky layers swallow your petite frame, try a belted coat instead. A long, belted jacket is a perfect trendy clothing item for petite women. The long vertical line is flattering for everyone and creates a clean-cut silhouette when paired with the belt. Check out our Belted Burgundy Trench Coat for a jacket you can wear from the holidays through to spring! 
Smock-Waist Dress
Every woman needs at least one great dress in her wardrobe. Like high-waisted jeans, a smock-waisted dress is an essential item for any petite woman's closet. Our Chiffon Smock Waist Long Sleeve Dress is an incredible option. The smocked waist gives your figure that desirable hourglass shape.
Crop Tops 
A crop top is a perfect look for petite ladies. Check out our Dana Satin Top, which has a cinch that allows you to show a little more skin (or not!) No trend has been hotter lately than the crop top trend! Crop tops are ideal because you can most likely purchase them in any size, not just petite. 
High Heels 
High heels are a wardrobe necessity for all shorter women who want to look (and feel) taller. Heels are the ideal shoes for short women to make their legs appear longer, slimmer, and shapelier. They are basically like a magic trick to give you the illusion of height. Here's an additional trick: get nude heels to really make your legs look a mile high! 
Best Accessories for Petites 
Accessories are like the exclamation point of any outfit, so we can't leave them out. When considering accessories, try to find trendy yet stylish options that don't overpower your petite frame or your outfit. Proportions are important! We recommend delicate and understated accessories. Reach for a small purse rather than a large tote bag. Try some dainty jewelry, like our Champagne Stud Earrings or Gold Hammered Curved Bar necklace. 
Petite Clothing at Pretty and All
Every woman deserves to love her clothes! Whether you are petite, plus-size, or somewhere in between, Pretty and All has clothes and accessories so that every woman can find something she loves. Peruse our options online or email
jen@prettyandall.com
to schedule an in-person private shopping session to help you choose the perfect petite options for your wardrobe.