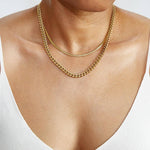 Small Touches: How Accessories Easily Elevate Your Look
Just like accessories are usually the last small touch we put on after we get dressed, they are often the last thing we think about when putting together an outfit. However, it might be time to give your accessories more consideration. After all, as Michael Kors once said, "I've always thought of accessories as the exclamation point of a woman's outfit." So, save the best for last and pick out some new accessories that match your style and elevate your look. At Pretty and All, We specialize in curating items in our shop where women can find tons of clothes and accessories and be obsessed with how cute they are. We have several in-style accessories for you to choose from to add to your closet to take your daily outfits up a style notch! 
Tips for Choosing In Style Accessories
Accessorizing is simply spicing up your outfits by incorporating smaller extra pieces. Though a fashion accessory like a scarf or a bag does have a practical function, it also serves as a stylish way to update and transform the rest of your outfit. Utilizing the in-style accessories of the season to complete your outfit and elevate your style is an affordable yet fashionable way to update any outfit. You can use an accessory to add a pop of color or an animal print to a more basic look. A piece of jewelry, a scarf, or a hair clip can instantly take an outfit from boring to "Oh my God, is she an influencer?" Think about it: it wasn't always the outfit that made Carrie Bradshaw a style icon. It was her choice of shoes or a bag that really made it work. 
Consider these tips when you choose your accessories: 
Play with Colors and Patterns
If you're wearing your favorite neutral-colored outfit (again), use a sparkly, fun, bold-colored, or patterned accessory to jazz it up. (And make everyone forget that you've already worn that outfit this week.) 
Use Accessories to Update an Outfit 
Let's be real: not all of us can afford to buy an entirely new closet full of clothes for every single season. Accessories are a simple way to update your wardrobe to fit the latest trends. 
Choose a Statement Piece 
If choosing between tons of accessories every day just isn't for you, choose one signature accessory that you wear all the time. Maybe it's a fabulous necklace or a really great bag that goes with everything. 
Accessories Don't Have to Match
Accessories that are too matchy-matchy don't add much flair to an outfit. Don't be afraid to mix colors and other exciting accessories that might not necessarily traditionally go together! 
How to Elevate Your Style with Accessories 
Choose from some of our trendy and classic accessories options: 
Statement Scarf
Scarves are an accessory that can go with any outfit. If your outfit is simple, try wrapping a scarf around your neck to warm you up and elevate your style. Try our Navy Scarf for a classic touch of elegance that goes with everything in your closet! 
Leopard Scarf
Next time you want to wear an in-style accessory over a t-shirt and jeans, try our Gretta Leopard Scarf. (And, it'll keep you warm, too!) Leopard never goes out of style, and it instantly elevates any look. 
Chain Link Necklace
Add a statement piece like our Thick Curb Chain Link Necklace to add a level of punk to any outfit. For an added bonus, layer it with other necklaces for an extra splash of sophistication. 
Drop Earrings 
Drop it like it's hot with our drop earrings featuring a stone stud and a spike charm attached to a 14k gold-filled chain. Wear them alone, or double them up with another ear piercing. If you want to be noticed, these earrings are the way to stand out. 
Classic Winter Beanie 
From Taylor Swift to Rihanna, celebrities are always wearing beanies—and it's not just so they can go incognito. It's also a stylish way to cap off any outfit. Our Classic Waffle Beanie can be your new signature look. 
Sherpa Scrunchies 
Take your ponytail to a more polished level with a scrunchie. Our Teddy Bear Scrunchies feature a Sherpa style that keeps you on-trend and adds a finishing touch to your outfit in literally the easiest way possible.  
Trendy Hair Clip 
If you want *the* trendiest hairpiece of the season, you need our Tessa Tortoise Hair Claw Clip. Not only does it add instant style to your outfit, but it is also a simple way to pin your hair back in that cool-girl way. 
Lightning Bolt Stud Earrings
Add some electricity to your outfit with our Lightning Bolt Stud Earrings! Earrings are the perfect subtle way to dress up any getup. 
Beaded Bracelets
The hottest trend in jewelry right now is anything stackable. Try our Audrey Beaded Bracelet for an easy-to-slip-on look that you can wear every day! 
Faux Leather Wallet 
Toss that old wallet your parents bought you in high school. Next time you pull out your wallet when you're buying coffee, stun everyone in Starbucks with your new Sia Wallet, our trendy zipper wallet that keeps your stuff organized in style. 
Fabulous Tote
A bag is the ultimate way to add an aura of style and sophistication to your daily style. Our Madison Canvas Crossbody Tote is large enough to carry all your essentials, yet still chic and trendy with its striped strap and camo pattern. 
Know Your Fashion Style
Accessorizing is an art that you can use to accentuate your own personal style. In many ways, you can use accessories to elevate your own personal style. While it can be harder to show off your individuality with sweaters and jeans, the right accessory can elevate your outfit, whether it's for the office, a date, or a night out with friends. 
Find the Right Accessories to Elevate Your Look at Pretty and All
Pretty and All has all the small touches you need to elevate your look! From jewelry to scarves and even bags, we have everything a woman needs for her closet to show off her own style.