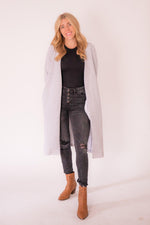 What Does 'Dressing for Work' Mean?
After all the craziness of the last few years of Zoom meetings, remote work, and the return to the workplace, it can be hard to know what a work wardrobe consists of anymore. Let alone having to come up with different work outfits five days every week! The key is to keep it comfortable yet professional. Whether you are working remotely or dressing for the office every day, Pretty and All has all the clothing items you need to make getting ready for work fun instead of a chore, no matter your career.
Work Wardrobe
As 2022 approaches, it's time to consider your work wardrobe for the new year. Whether you are returning to the office or continuing to work from home, a refresh is always a good idea. When it comes to your work wardrobe, you should wear what makes you feel powerful while also staying comfortable. Whether your job requires you to be business professional, business formal, or business casual, dressing for work is all about conveying confidence and professionalism. However, your own work wardrobe can also show off your personal style. As the famous quote says, "dress for the job you want, not for the job you have." However, we think you should dress how you want to dress! 
What to Wear to Work in an Office 
If you're working in person, you will need a mix of more formal options. Stock your wardrobe with these staples to make dressing from 9-5 at your office much easier.  
Killer Blazer 
A blazer is the key to instantly looking put together and professional. Our Burgundy Boyfriend Blazer Jacket has a loose, relaxed boyfriend fit but is still chic and interesting. 
Patterned Dress 
Every woman needs a fun and interesting dress in her closet. Our Short Sleeve Animal Printed Tunic Dress can be dressed up or down and layered with other pieces for a polished look. It has a look that is universally flattering on nearly every body shape while still maintaining professionalism. 
Basic Bodysuit 
A bodysuit is a perfect way to dress for work easily. Bodysuits are versatile and look effortlessly put together. Wear one with your favorite pair of dressy denim for a more casual office, or with a skirt for a dressier look. Our Corinne Bodysuit is the perfect option for the workplace. It's the ideal layering piece. Add a cardigan over the top on colder days or a blazer on days that you need to look your best. 
High-Waisted Jeans
Denim can be appropriate for the office, depending on the look and vibe. Our High Waisted Black Flair Jeans are super high-waisted, stretchy, and fitted. Pair them with a button-down shirt or a nice sweater for an office-ready look. 
Midi Skirt 
When you wear a skirt to the office, you want it to be long enough to be appropriate. A midi skirt is a perfect option. Our black Slit Skirt has a slit to show just the right amount of leg, has pockets for all your essentials, and small ties at the back waist for the perfect fit. 
WFH Dress Code
While it can be tempting to stay in your cute matching PJs all day while working from home, studies actually show that getting dressed for the day makes you feel more productive. Even if you are literally working from the comfort of your bedroom, it doesn't need to look like it! There are actually mental health benefits of getting dressed for the day. If you're working from home indefinitely, invest in a few comfy yet professional pieces to help you feel ready to tackle your day. 
Long Cardigan 
If you're WFH, a long open cardigan is a great alternative to a blazer. Our Tami Cardigan is the perfect stylish yet comfortable option to throw over nearly any outfit to be Zoom-ready in no time. It even has pockets! (And who doesn't love pockets?) 
Great Leggings 
Since no one can see your pants anyway, get a great pair of black leggings that are comfortable enough for home and can go with everything. Our Foil Highwaist Leggings are the perfect WFH pants. 
Pretty Sweater 
Since most of your coworkers will only see your shirt anyway, focus on what you're wearing on top. Our Dusty Cedar Sweater, with banded cuffs and a banded hem, and a draped shoulder knit detail, gives you a pretty and put-together look with minimal effort. 
Comfy Top 
Want something a little more relaxed? Our Grey Twist Top is soft and casual yet appropriate enough to wear on a video meeting. Pair it with a pair of black leggings for a complete outfit. 
Matching Set
Let's be real: some days, when you're working from home, and you don't have any meetings scheduled on your Google Calendar, you just want to be as comfy and cozy as possible. Our Varsity Striped Set in black is cozy yet helps you look put together enough to jump on a meeting at a moment's notice. 
Work Wardrobe Accessories 
When it comes to putting together a work wardrobe for 2022, you can't forget your accessories! Keep a few pieces on hand to help you complete your look and conquer your goals. 
Hoop Earrings 
When it comes to work, jewelry can make a huge difference in your look. Our Gold Hoop Earrings are on-trend and add an instant upgrade to any outfit. 
Classic Scarf 
A scarf adds a touch to any outfit, but let's be honest: it will also keep you warm in your freezing-cold office, too! 
Hair Clip 
Lift your hair out of your face and clip it back professionally with our Tessa Tortoise Hair Claw Clip.
Work Wardrobe Pieces from Pretty and All
Pretty and All has all the work wardrobe essentials you need to create a capsule collection of pieces that you can wear to the office, to work from home, and maybe even out to happy hour afterward. Our goal is to help every woman feel happy and confident in the new clothes she finds at our boutique. Happy shopping!