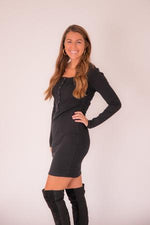 Capsule Wardrobes: Everything You Need to Start Your Own
Have you yet to master your personal style? You're not alone! Building a closet full of clothing that inspires you and represents your style can take years for even the most well-trained eyes. One of the best approaches to achieving a unique style is to build a capsule wardrobe. 
Think about this: How often do you spontaneously buy an item of clothing that you end up never actually wearing? Do you have a lot of things in your closet that you haven't worn in months or even years? If so, a capsule wardrobe might be just the solution that you need. The idea of a capsule wardrobe is that every piece of clothing in your closet is regularly a part of your clothing rotation. Instead of getting dressed feeling like a chore, it will be something that you are confident and excited about every day. That's because every item you own has a purpose and multiple ways to style them.
The Only Capsule Wardrobe Checklist You'll Ever Need
Not sure where to start with creating your capsule wardrobe? We've created a capsule wardrobe checklist just for you! Check out these ten items you need to create a minimalist wardrobe that will work for any type of woman.
Blazer
A quality blazer is an absolute must-have for your new capsule wardrobe. Blazers are a great layering piece for any season. Plus, they can easily be dressed up or dressed down and help you instantly look more put-together. Our Burgundy Boyfriend Blazer has a relaxed fit, the perfect classic piece to spice up any outfit.
Basic White T-Shirt
A simple t-shirt is one of the most accessible and versatile pieces in a minimalist wardrobe for women. You can wear it while running errands, out on the weekends, or even in a business-casual workplace. Having a basic t-shirt is a great resting place for your eye when styling an item like a statement jacket or trousers. You will need these essential items to balance out the more attention-grabbing pieces in your wardrobe.
If you don't love the idea of a white t-shirt, you could choose another neutral color. It will serve the same purpose but may fit your color palette better. For example, you could choose a black or nude-colored t-shirt instead.
Straight Leg Jeans
Every closet needs a pair of go-to jeans! Yes, we know how hard they can be to find. However, once you find the comfortable pair and fit perfectly, it will be worth the search. Straight-leg jeans tend to have the most versatility as they are sophisticated and easy to pair with your other capsule pieces.
Slim-Fit Jeans
For some people, straight-leg jeans might not be your favorite style. In that case, a slim-fit pair of jeans is a good alternative. If you wear jeans a lot, you might find it beneficial to have both silhouettes in your closet. If you choose to have more than one pair of jeans, it's wise to have different washes. Perhaps your straight-leg jeans are a light wash, and your slim fit is a black or dark wash.
Basic Bodysuit or Fitted Tank
Any minimalist wardrobe for women needs a basic bodysuit. Now, when you think of a bodysuit, you might think of a plunging neckline. But that doesn't always have to be the case. A quality staple bodysuit will help you achieve a clean, polished look at all times. The benefit of a bodysuit is that it eliminates annoying bunching, and you can wear it with a pair of jeans or under a blazer or other layering piece. 
A Neutral, Wearable Dress
A neutral, versatile dress is a great option all year round. That precise dress depends on your style and your lifestyle. A basic knit dress or a silk-look slip dress are some of the most common favorites. These two styles can be worn almost all year by adding layers or tights and adjusting your accessories. They can also transition from day to evening quickly and easily.
Knitwear
There is a lot to the knitwear part of a wardrobe. If you live in a colder climate, it might be an area that you want to invest in more. The two pieces every woman needs in their capsule wardrobe are a crewneck sweater and a cardigan. You might choose a crewneck sweater that is medium-weight and good for fall, winter, and early spring. Then, you could select a lighter-weight cardigan that is perfect for spring, cool summer nights, and early fall.
Trousers
Almost everyone needs at least one pair of pants that is not denim. These are great because they are often more comfortable than denim pants. They are also perfect for slightly more formal work environments or special events. There are many options for different fits and styles of trousers, so you have free reign to decide what works best for your body type and style.
Midi-Length Skirt
Midi skirts are a favorite because they allow you to move around while still keeping cool. They are also another piece that transitions easily between formal and casual. Our Slit Skirt shows just the right amount of leg, has added pockets for snacks, and small ties for the perfect fit every time!
Blouse
Everyone loves their favorite t-shirt, but a polished blouse is necessary for those slightly more formal occasions. If your style leans toward prints, this would be a great place to add some! You don't have to go all out with a crazy pattern to achieve the interest that you desire. A subtle stripe, small polka dot, or classic floral print can add a lot to your capsule wardrobe.
Capsule Wardrobes Are Not Boring!
When a lot of people hear "capsule wardrobe," they immediately think "boring." But that isn't true! A capsule wardrobe is all about collecting foundational pieces that help you create a versatile closet. Don't view the pieces as a constraint on your style. Remember that all of these "capsule" pieces should be mixed and matched to create basic outfits. In addition, your capsule wardrobe pieces do not have to be the only items in your closet. You can also invest in other pieces that speak more to your style. With both types of pieces in your closet, you will be able to mix and match everything and wear your entire wardrobe regularly and create outfits you love to wear.