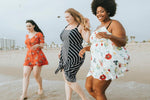 Size-Inclusivity and the Evolution of Fashion
Size-Inclusivity: How the Fashion Industry Is Evolving to Cater to All Bodies
The fashion industry has long struggled with catering to all size bodies. It's not fair that not every woman could not always confidently walk into a store and leave with something they love and can't wait to wear. Recently, however, society has begun to change. Models like Ashley Graham and Hunter McGrady have entered the chat and brought up important conversations in the fashion world regarding size-inclusivity. Fashion designers like Christian Siriano are leading the charge toward size-inclusivity, both on the catwalk and in real life. 
At Pretty and All, we offer clothing like basics, athletic wear, and loungewear in a range of sizes so every woman can love their wardrobe. Our size-inclusive philosophy ensures that everyone enjoys a fun and enjoyable shopping experience! 
What Is Size Inclusivity?
The terms "plus-size" and "body positive" are on the way out of the fashion industry, and the preferred term now is "size inclusive." But actually, the terms size inclusive and plus size are actually very different. They're not interchangeable! Don't worry, we'll break it all down for you. 
So, what is size inclusivity? Size-inclusive is a term that refers to making the same kinds of clothing in all sizes ranges. This is as opposed to brands that create separate lines of plus-size clothing with different offerings. How many times have you walked into a store, but they only have the cute and trendy items available in smaller sizes? There's nothing more frustrating. A size-inclusive store or brand tries to cover as many different sizes and shapes as possible, and definitely doesn't cater to only one type of figure. 
Pretty and All is one such size-inclusive boutique. We offer our cute and trendy apparel in a variety of sizes, so everyone can choose the styles they love. We also feature real women as models wearing our clothes, because representation matters! You can really see what you might look like in what you order from our store. 
Size Inclusivity vs. Plus-Size
Wait, so how are size-inclusive and plus-size different? Typically, plus-size refers to a different line of clothes designed for different sizes. Oftentimes, these lines are full of large and boxy items that don't match the trends of the moment. Rather than making the women who fit into these sizes feel better, it often makes them feel even worse. 
The size-inclusive approach is about allowing all women to access their favorite fashion collections, not just women who are an average size. A size-inclusive collection sells the same clothing items in a wide range of sizes, rather than having a separate line or section for plus-sizes. (What is an "average size," anyway!?) All bodies are beautiful! 
Whether you are short, tall, small, big, athletic, curvy, or flat, you should be able to find clothing items that fit you and you love when you go clothes shopping. Size-inclusive means that two friends with different body types can go shopping together (like Pretty and All!), and both find amazing options and have an excellent overall experience. 
Many mass retailers are promoting size-inclusive campaigns. Size-inclusivity is gradually becoming a fixture in the world of women's clothing. (Finally!) While there is more work to be done toward inclusivity in the fashion world, there is progress being made. 
Size-Inclusive Brands
We'll admit it: the word "inclusive" gets thrown around a lot lately. Inclusive quite literally means "including all the services and items that are normally expected and required." 
But size-inclusive is more than just a buzzword. The fashion industry is evolving and catering to all bodies more and more. These days, shoppers like yourself are smarter than ever before. Consumers are choosy (and rightfully so) about where they decide to spend their hard-earned money. That is why more and more brands are becoming size-inclusive and offering a wide variety of options in their clothing lines. And it's not just larger sizes! Size inclusivity also applies to those who are petite or tall. Inclusive means everyone. 
Unfortunately, though the fashion industry is embracing size-inclusivity, not every brand is offering sizes above an extra-large. However, at Pretty and All, we specialize in providing clothes for all women. 
Even high-profile fashion designers are getting hip to the trend. In fact, Christian Siriano tripled his business by being more size-inclusive with his lines.  
The Importance of Inclusive Fashion 
While size inclusivity is a huge step for the fashion industry, inclusive fashion encompasses more than just size. Size inclusivity is just one part of the problem. There are other important issues for the fashion world to face, including diversity, ethicality, and sustainability. However, size-inclusive fashion is sustainable fashion.  
Size-Inclusive Fashion at Pretty and All
While the fashion world is finally embracing size-inclusivity, there is still a lot of work to be done. Society's struggle with size-inclusivity is all too real, but things are getting better. All women should feel represented by the models and brands they see in the fashion world. When you walk into a store or open up a browser to shop, you should feel welcome, accepted, and most of all, find clothes that you like and fit you well!  
Pretty and All is a size-inclusive boutique that offers a curated collection of pretty things handpicked by our founder, Jen. Our clothes often come in sizes ranging from XS to 3XL. Check out our black classic Caro bodysuit, a must-have item in any woman's closet. Or, consider our Classic Black Denim Jacket, a staple that can be thrown over virtually any outfit for cooler days in the fall. Hopefully, you will find something (or a few things) you love and can't wait to wear from our online boutique! Our goal is to help every woman find clothes they love, are obsessed with, and can't wait to wear again and again.