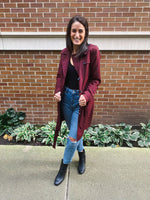 Staple Clothing Items That Translate Seamlessly from the Office to a Night Out
So, we all know the struggle: you've got a date scheduled after work. You'd love to head home from the office, clean up, change into a date-ready outfit, and head out, but in reality, there's just not enough time. Don't worry, we have the solution! It's possible to craft an outfit that will work all the way from your office to any kind of date night. 
At Pretty and All, we have several staple clothing item options that translate seamlessly from the office to a night out on the town. Plus, we have put together the perfect casual date outfits and work-to-date outfits, so all you have to do is look fabulous! 
Casual Date Outfit
If it's a more casual date, try wearing jeans and a slightly dressier top. 
A Slinky Tank Top 
Our Cowl Neck Sleeveless Tank Top is the perfect top to take you from work to a date. It's a taupe, gorgeous chiffon cowl neck top that's perfect for a night out on the town. Pair it with dark skinny jeans for a casual weeknight look. Don't worry: there's plenty of double lining around the chest so it's not see-through at all. 
A Sexy Sweater
For a warmer option on those cooler date nights, wear a Knit Cropped Sweater with jeans. It's a beige, solid soft-knit oversized crop top sweater with a dropped shoulder and three-quarter length sleeves. The cropped look elevates the sweater and makes it a date-night look, while still being cozy and conservative enough for the office.  It's a classic and cute look for a more casual evening. 
A Classic Pair of Jeans
Wear our sleeveless chiffon tank with a classic pair of dark jeans if you want to be comfortable enough to last all day long into the night. Our Raw Hem Crop Skinny Jeans are a pair of comfort stretch denim with a cropped length and a raw hem. 
Best Outfit for Date Nights During the Week
If you've got a date night during the week, and you're not sure where you're going, try a dress and blazer combo. It's the ideal look for working women that still works after 9 to 5! 
A Flirty Floral Dress
Our Chiffon Smock Waist Long Sleeve Dress has long sleeves and an attached slip sewn inside  that make it suitable for the office, but it's still playful and formal enough as an outfit for a date, too. This whimsical floral printed dress is perfect for any date night. 
A Classic Blazer
If you're worried you'll be too chilly or not quite dressy enough for your office in just a dress, you can add our Tie Belt Double Flap Pocket Navy Blazer over it. This sleek crepe blazer falls below your hip and ties at the waist with a matching tie belt to give you a sleek and flattering silhouette. 
Fancier Work-to-Date Outfits
If it's a fancier date night, like an evening at a steakhouse or a rooftop bar, consider a silky skirt and a bodysuit. 
A Basic Black Bodysuit 
Our Corinne Bodysuit is a black, short-sleeve thong bodysuit that pairs beautifully with a skirt. It features a flattering neckline perfect for a date, but isn't too low-cut for the office. The best thing about this piece is its versatility. Wear it over and over, to work, on dates, anywhere! 
A Slinky, Sexy Skirt 
If you want to up the sexiness factor for your date night in an outfit that you can still wear to work, try our Satin Leopard Print Midi Skirt. It's a gorgeous satin skirt with leopard detail, and the satin makes it perfect for a dressier date night. Plus, it features an elastic waistband, so you can stay comfy all day. 
Work-to-Date Accessories
No date night outfit is complete without some fun extras to dress it up! These accessories are versatile enough to add to any outfit. 
Earrings 
Cute earrings dress up any outfit for any type of night. For an on-trend, dainty look, accessorize with our Gold Triangle Ear Crawlers. 
Necklace 
Add a pretty gold necklace to elevate any look for either work or a date. Our Delicate Gold Curved Bar Necklace is subtle yet gorgeous and matches with any outfit, day or night. 
Hair Clip 
Take your hair from day to night with a Tessa Tortoise Hair Claw Clip. Keep your hair up, professional, and out of the way at work, then let it down at night without the annoying creases from a hair tie. (Plus, hair claws are so trendy right now!) 
Tips for Work-to-Date Outfits
We might not have any first date tips for you, but we do have some expert advice for taking your favorite outfit items from day to night: 
Choose the Right Sleeve Length 
Always choose a sleeve length that works best for *your* body, as well as the weather. If you love a sleeveless top, just add a sweater for your workday! 
Layer on a Blazer 
Layers are key for taking any outfit from work to play. If you're worried your outfit is too casual for the office, dress it up with a blazer. 
Wear All Black 
Black is the best color for transitioning outfits. It works for any type of date, and even if you're wearing a casual outfit, black always looks fancy. 
Don't Forget the Accessories
Never forget to add some extra glitz and glamour to your date night look. Toss some earrings or a necklace on with your outfit to take your ensemble to the next level! Just throw them in your purse and put them on your way out of the office door. 
Get Your Office-to-Date-Night Looks at Pretty and All
By the way, men wonder about what to wear from day to night for a date night, too! If you're looking for the perfect closet staples that help you translate easily from the office to a night out, Pretty and All has all the pieces you need. We offer trendy, yet classic clothes that are reasonably priced. We are a size-inclusive boutique that caters to women of all sizes. We can help you find the perfect outfits to take you from day to night that we just know you'll love!