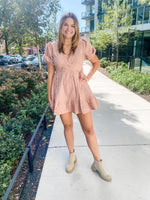 Wardrobe Staples That Elevate Any Woman's Closet
A new season, or even better, a new season after a long quarantine during a pandemic, is the perfect time to consider your wardrobe. What staples are you missing that will elevate your style? There are a few wardrobe staples that elevate any woman's closet, no matter what your day to day looks like or what your kind of style is. Trends come and go, but the timeless pieces in your wardrobe will always have your back. 
We'll tell you a few of the best wardrobe staples to invest in to elevate your post-pandemic wardrobe and get you ready for everything, from work to play. The best part about wardrobe staples is that you can mix and match to create new outfits out of what you already have! 
Wardrobe Staple Clothing
A wardrobe staple is an item that you *need* to have in your closet. It's an item that has stood the test of time and you reach for it in your closet over and over again, season after season, year after year. Since every woman's style varies, the staple items might differ from person to person. However, there are a few items that every woman should own that she can style to her own taste. You can think of wardrobe staples as the building blocks in your closet to help you create the look *you* want. 
The key to wardrobe staple clothing is choosing items that are versatile and can be worn several different ways. This way, you can mix and match what you have to create different cute outfits! Plus, a streamlined closet stocked with the essentials helps you save precious time deciding what to wear as you're racing to get ready in the morning (and wondering if you still have time to grab an iced coffee!) 
Essentials Clothing from Pretty and All
While trendy clothes are fun, it's important to build a closet full of essentials for everyday that will last you a long time. We've curated a list of a few of our favorite items from our boutique that we think work perfectly in every woman's wardrobe. Our goal is to make getting dressed every day easier than ever! 
And keep in mind that "staple" doesn't have to translate to "boring." While many of the items on this list are classic, a few have a trendy twist to add some personality. After all, getting dressed every day should be fun!
Here are just a few of our favorite essentials to add to your wardrobe: 
A Versatile Bodysuit
A bodysuit is a seamless, sexy, and easy addition to any closet. You can wear it with pants or a skirt! Mix and match for all kinds of cute outfits. Bodysuits come from the shapewear family and have the ability to slim everything in just the right way for a flattering look. Swap out a regular t-shirt for a bodysuit for a put-together look. One great option is our Cari Bodysuit, a black mid-weight knit jersey cut-out mid-sleeve thong bodysuit. Pair it with jeans for a more casual look, or with a flowy leopard print skirt for a night out on the town! 
A Classic Jacket
A great denim jacket is one of those wardrobe staples that you can reach for in your closet all year round! Every woman needs a denim jacket in her wardrobe. It never goes out of fashion. We love our Classic Black Denim Jacket! It's stretchy, comfortable, and sure to be a go-to. Wear it with leggings and a t-shirt on coffee run in the fall or over a floral dress on a date in the spring, 
An Athleisure Set
Sometimes, you don't want to work out, but you do want to wear workout clothes, you know? An underrated wardrobe staple is a matching athletic set that you can wear to the gym, or anywhere else, for that matter! Try our Snake Foil Print Leggings and matching Snake Foil Print Sports Bra for a flattering, wear everywhere, on-the-go-outfit. These gorgeous snakeskin-inspired leggings feature a foil print on four-way stretch fabric. (No uncomfortable, too-tight leggings here!) They give you some abs support, and even have a discreet pocket for your essentials! (Who doesn't love an outfit with pockets?) 
A Great Pair of Jeans
Sure, we're all hesitant to put jeans back on after the pandemic. We've all gotten so used to our leggings and sweatpants. But every woman still should have at least *one* pair of jeans in her closet. Try our Vintage Slim Straight Jeans for a pair that you can wear with literally everything. These jeans give you easy-going comfort in a cool, vintage style. They have a bit of fading, some subtle stretch, and a high waist. 
A Cute Dress
Forget a little black dress and add a dress with a little more personality to your closet instead. Our Blush Ruffle Dress is as versatile as an LBD, but a lot more fun. It is a textured solid cotton mini dress featuring a v-neck line wrap style, ruffle hem details, strap tie belt, and front snap-button closure. Wear it to work during the day, or throw the Black Classic Denim Jacket over it for a dinner out with your girlfriends. 
A Beanie 
When it comes to adding staples to your wardrobe, you never want to forget the accessories! 
Every woman needs a beanie, for warmth and, let's face it, for cuteness too! Mix it up with our Leopard Beanie, a fuzzy army green leopard print beanie with a rolled cuff. It adds a trendy touch to any cold-weather outfit! 
Classic Women's Clothing
Much like Taylor Swift, certain items of classic women's clothing never go out of style. It is never a bad idea to invest in classic wardrobe pieces that you will wear over and over again in a variety of different ways! But remember: at the end of the day, choose the items that make you feel good! At Pretty and All, we are a size-inclusive boutique that hopes to provide fantastic options for every woman. For more amazing staples, check out the rest of our collections at Pretty and All.