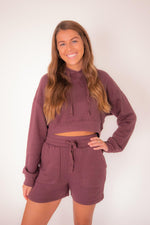 Athleisure: Evolved. 2022's Vision for the Staple Style
2022 is here, and a new year usually means setting new goals! For many of us, those goals might mean taking more time to relax and take breaks, or it might mean focusing on your health and wellness. Whether your resolutions include walking more or hitting the gym on a regular basis, you can do it in 2022's hottest athleisure trends. They can inspire you to get your butt moving, or, let's be real, you can just wear them on your next coffee run! Treat yourself to some athleisure outfits that make you feel your best at Pretty and All. 
Athleisure Trends 
Back in 2015 when you were heading out the door for brunch with your girlfriends, it would have been a daring choice to wear the same leggings you wear to the gym. Now, though, it's even weirder to throw on a pair of jeans on the weekend. Though it used to be a fashion faux pas to wear sweatpants out and about or treat leggings as pants, now athleisure matching sets, leggings, and oversized sweatshirts are the norm. 
We partly have the pandemic to thank for that: once COVID-19 hit the U.S., suddenly sales of high heels dropped by 71% and consumers opted for comfier choices, like slippers, sneakers, Crocs, and Uggs. (Yes, Uggs are back and in a big way in 2022!) 
Athleisure is evolving from the beginning of the term. The word "athleisure" was first used in an issue of "Nation's Business" in March 1979. Twenty years later, in 1997 into the early 2000s, athleisure advanced in popularity. The phrase describes the blurring of the line of some outfits between "athletic" and "leisure." As we head into 2022, athleisure has evolved from a fashion trend to a lifestyle. 
Off-duty models snapped in paparazzi photos are often wearing sneakers, socks, leggings, and baggy sweatshirts - and not just on their way to and from working out. Even luxury brands are embracing athleisure and making their own pieces! 
You won't only be seeing these trends at your local SoulCycle studios and XSport gyms, either. These days, since we're all opting for ease in our daily lives, the key is choosing pieces that you can wear to the gym, to the grocery store, to Starbucks, and even to brunch with your girlfriends. 
Athleisure Fashion Trends in 2022  
Workout gear has never been more stylish and fun! As athleisure has gained popularity over the last few years, the clothes have gotten better and better. Athleisure is not just for working out anymore! These are the top athleisure fashion trends to look for (and shop for) this year: 
Matching Sets 
Don't put away that matching workout set or lounge set you bought in the early days of the pandemic! The matching set trend is only expected to grow in popularity in 2022. You might even want to add a few more to your closet! 
Fun Bottoms 
Athleisure has evolved past just the simple black leggings we all know and love. Now, our beloved leggings come in a variety of fun colors, prints, and even cuts: flared or split-leg leggings, anyone!? Particularly if you're shopping for spring and summer, don't shy away from bright colored leggings and exciting prints, like leopard. 
Bike Shorts
The hotly contested trend of bike shorts will continue in 2022. Whether you like bike shorts or not, you have to admit they are functional for day-to-day life and a great alternative to leggings on hotter days! 
Sports Bras Worn as Shirts 
Sports bras are the new tops. If you're not comfortable running around town in only a bra, wear it underneath your favorite jacket for a sexy and functional look. 
Orange and Red
We'd say look out for the orange and red color trend, but you probably won't have to look too hard! Red and orange are projected to be the hottest colors of spring 2022, and it's likely that will include athleisure (since our athleisure is taking up the most space in our closets these days!) 
Athleisure Style at Pretty and All 
Pretty and All has all the athleisure pieces you need for your 2022 wardrobe. 
Varsity Striped Set 
This lightweight and cozy jogger and hoodie set has a cute striped design and comes in two colors: black and grey. While this might not be the best option for a sweaty workout, it is ideal to throw on to run some quick errands or even grab a casual bite to eat!
Maroon Lounge-to-Street Cropped Hoodie and Shorts Set 
Our Maroon Lounge-to-Street Cropped Hoodie and Shorts Set is the perfect outfit to wear all day: for a coffee run, to lounge around in and watch Real Housewives, to run errands in, and you can even fit in a walk or a light workout in this adorable matching set. Both the top and bottom have a textured inner layer for temperature management! 
Snake Foil Print Leggings 
Our Snake Foil Print Leggings are gorgeous snakeskin-inspired leggings that feature a foil print four-way stretch fabric. They have a pocket for your essentials, and the higher waist offers ab support! These are a fun take on a classic black legging look. (If you like the matching look, there is a Snake Foil Print Sports Bra to go with the leggings!) 
Leopard Jacquard High-Waisted Leggings
Try an on-trend print with our Leopard Jacquard High-Waisted Leggings. These solid-colored leggings were constructed using textured leopard jacquard with a raised texture. It even has a phone pouch in the waistband so you can have easy access to your phone. 
Swirl Tie-Dye Pullover
Get two trends in one with our Swirl Tie-Dye Pullover! Wear it with your favorite pair of leggings or throw it on over your sports bra after a sweaty workout. 
Longline Mineral Washed Hi-Lo Sweater 
We all need an oversized sweater to pair with our favorite bike shorts or leggings. Our Longline Mineral Washed Hi-Lo Sweater is the perfect versatile everyday option! 
Shop Athleisure Trends at Pretty and All 
Pretty and All has all the athleisure pieces you need in your closet for 2022 and beyond. Happy shopping!