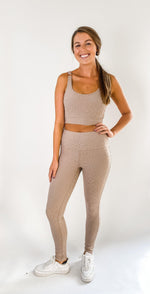 Utilize Fun Cutouts to Add Modernity to Your Wardrobe
Cold Shoulder? Yes, Please! How to Easily Utilize Fun Cutouts to Add Modernity to Your Wardrobe
If you want to add a fun, subtle bit of sexiness to any outfit, opt for a cute cold shoulder top or cut-out clothes. Show off a little skin (or a lot) in cutout outfits. Cutout clothes work for every kind of day, from a casual summer top, to workout clothes, and even alluring cocktail dresses. Cutouts are versatile and can be found in t-shirts, sweaters, bodysuits, and more. Think of cutouts as an extension of the ripped denim that is so popular now! We'll tell you how to easily add some cold shoulder tops and other fun cutout pieces to your wardrobe to add a modern 2022 touch to your closet. 
What Exactly is a Cold Shoulder Top? 
A cold-shoulder top is similar to an off-the-shoulder top, except it features straps or full-sleeves with cut-outs at the shoulders. The extra fabric helps give you some more support on top and anchors the top in place. (No more not being able to raise your arms above your head, which is typically the case with an off-the-shoulder top!) It is also a much more versatile shoulder-baring style that can be worn in every kind of setting, including for formal or business events. The slight flash of skin makes it a sexy, yet modest, look that flatters everyone! 
Why You Need Cute Cold Shoulder Tops
Cute cold shoulder tops are the trend that never goes out of style! If you're wondering if cold shoulder tops are still "in," all you have to do is see the queen of country music, Dolly Parton, wearing hers to know they absolutely are still a popular trend to invest in. In fact, it's such a popular trend that it's for all seasons now—not just for summer. We love cute cold shoulder tops because they are a look that every single woman can rock, no matter her size or style! Even if you're not the type to typically show off your shoulders (or any skin) on a daily basis, it's a fun trend to try on a night out or even on a vacation! 
Tips for How to Wear Cut Out Tops 
We think one of the best things about this trend is that it works well for absolutely every woman. However, If you're still unsure if you're ready to rock the cut-out top trend, we have some expert styling tips to help you master this look. (And we know you'll look fabulous!) 
Keep the Focus on Top 
Your off-the-shoulder top is most likely the statement piece of your outfit, so keep all eyes on your shoulders by wearing something less dramatic on the bottom. 
Create a Relaxed Look
Match your cold shoulder top with your favorite pair of jeans for a more relaxed look that can be worn anytime! 
Style a Cold Shoulder Top for Work 
Yes, this trend is so versatile it can even be worn in (most) workplaces! Pair your cold shoulder top with business-appropriate pants and heels or flats for a modest and elegant work look. 
Build a Balanced Look
If your cold shoulder top is more billowy, make sure to choose a bottom that is more form-fitted to create a balanced, figure-flattering outfit. 
Pick the Right Accessories 
If you're wearing a cold shoulder top, skip the necklace and bracelet that will distract from your unique neckline, and instead opt for a pair of statement earrings to dress up your look. (Might we recommend our Faux Granite Cutout Circle Earrings, jewelry's answer to the cutout trend?) 
Cut Out Clothes for Every Occasion 
Check out some of our best pieces of apparel featuring cutouts from Pretty & All! 
Cari Bodysuit 
A basic bodysuit, but make it interesting: that's our Cari Bodysuit. This mid-weight knit jersey mid-sleeve black bodysuit features a cute, playful cutout above your chest to show off a tiny sliver of collarbone. (Plus, it's a total steal at $40! It will be the easiest piece to style with anything in your wardrobe. Wear it with joggers, jeans, or a skirt!) 
Black Cutout Sweatshirt 
This relaxed-fit black cutout sweatshirt is the perfect versatile piece to add to your wardrobe. From the front, it looks like a basic sweatshirt, right? But when you turn around, wow everyone with the open back and crisscross detail! It also has long balloon sleeves for a feminine look and is finished with a slit on the side of the body hem with a band.  Pair it with leggings or trendy bike shorts for running errands, or with jeans for a dressier look. 
Snake Foil Print Sports Bra
If you're more of a "black is the new black" kind of woman, check out our Snake Foil Print Sports Bra, which features crisscrossing mesh panels in the back to create the perfect cutout look! 
Distressed Stretch Boyfriend Jeans
The classic, original cutout is distressed jeans, a trend that still persists. (Will it ever go out of style? We doubt it!) These are our very favorite denim. They feature a comfortable stretch, slouchy fit, and double-cuffed hem. If you're investing in a new pair of denim this year, make it these! 
Leopard Jacquard Sports Bra
That's right—the cute cutout trend can even be incorporated into your workout gear! Our Leopard Jacquard Sports Bra features a cute half-circle cutout on the back. It also has adjustable bra straps and features a trendy and sexy gold leopard print! Plus, it's made with a soft, breathable, yet durable fabric, if you do decide to hit the gym while wearing it. (Psst: you can also pick up the matching Leopard Jacquard High-Waisted Leggings to complete the perfect matching athleisure set!) 
Get Cute Cold Shoulder Tops and More Wardrobe Staples at Pretty and All
Whether you're looking for cute cold shoulder tops or more clothing items to fill out your wardrobe for 2022, Pretty and All has everything you need. We are a size-inclusive boutique that has something to offer for each and every woman.