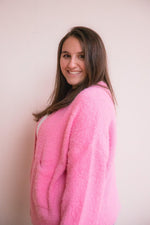 Spring/Summer 2022's Palette of Choice
Shades of Sunset: Spring/Summer 2022's Palette of Choice
When picking out outfits for a new season, it's always fun to look ahead at what the upcoming year's palette of choice will be to ensure that your color choices will be on-trend. This year's spring clothes colors will remind you of a gorgeous sunset: sunny yellow, fiery orange, and bright red. Pretty and All has all the shades of sunset you will need to curate the perfect spring and summer wardrobe. Our selection of spring colors clothes are ready for you to get shopping! 
The Spring Colors Clothes You Need to Know 
Whether you'll be working from home or the office, 2022 is all about embracing the colors and trends that make us happy and revitalizing our wardrobes as we wait for warmer temps to arrive. It's time to shed those sweatpants and fill our closets with pieces we can't wait to wear this spring and summer. 
If you want to take your spring and summer outfits to the next level, you need to know which hues are going to be the hottest. Though we don't have a crystal ball, we can tell you which colors will be trending this year, and it's all about the shades of sunset! These colors are very nature-inspired and fun as we (hopefully) return to more fun outings with family and friends, which of course necessitates some fun new additions to our closet. 
What's the Hottest Color of Spring 2022?
According to trend forecasters at Heuritech, the color orange is going to be the most popular in Spring 2022, in the U.S. and Europe. 
Though you won't want to throw out your class LBD (little black dress), this year's spring colors clothes are all about yellow, orange, and red. Color blocking is all about using these bright hues to make creative, fun outfits. 
Let's break down each of this upcoming spring and summer's hottest colors: 
Fiery Orange 
Orange is not just the new black, it's the new hottest color of the season. (Literally.) While orange might give some of us fashionistas pause, you'll be seeing it everywhere soon. Orange is the color of joy and creativity and is seen all over designers' spring 2022 collections. 
Canary Yellow
To continue the sunset theme, another color you'll be seeing a lot of this upcoming season is a canary yellow. It falls somewhere in between lemon and highlighter yellow. 
Roaring Red
Though the roaring 20s many of us were hoping for haven't arrived yet, that doesn't mean we can't flaunt what you've got in a roaring red, very on-trend for 2022.  
Hot Pink
Pull out all of your Elle Woods-inspired outfits (I know you have some in the back of your closet, be honest!), because hot pink is in this spring! Get a power suit or jumpsuit in this bold hue for a brave, Barbie-inspired look. 
Very Peri
This "blurple" shade is Pantone's Color of the Year for 2022. Each year, Pantone Color Institute forecasts the color palette for the next season. Very Peri is meant to be "a symbol of the global zeitgeist of the moment and the transition we are going through," according to Pantone. Expect to see plenty of this pretty shade through the entire year! 
Soft Lilac 
If Very Peri is a little much for you, try some soft lilac instead this spring. This beautiful soft shade is almost universally flattering, and is easy on the eyes.
There is a shade that can work on anyone in these spring and summer color options!  
Trending Color Palettes at Pretty & All
It's not hard to integrate the trendiest sunset colors of the year into your closet. Pretty & All has all the pieces you need in shades of sunset to add your spring and summer 2022 wardrobe. 
Molly Top 
Our gorgeous auburn top comes in the perfect spring color and features a square neck with long elastic cuff sleeves. The back has a smocked detail. 
Geo Crew Neck Fuzzy Sweater
This adorable fuzzy sweater comes in the very on-trend orange hue and has a cute geo stripe detail and soft textured crew neck long sleeve silhouette to take you from winter to spring! (And it's the ideal layering piece to keep you warm in your freezing-cold office on those spring days.)
Pearl Drop Tee
Try out the pretty lilac trend in our Pearl Drop Tee, which will be your new favorite throw-and-go top. It can be dressed up or down, and made more modest if you tie it up with a sweet lil keyhole peek, or wear it untied to show off what you've got. It's the perfect feminine top for spring!
Dusty Cedar Sweater 
Our Dusty Cedar Sweater is a wide neck sweater that comes in the beautiful orange hue for spring and has banded cuffs and a hem, runs oversized, and has a draped shoulder knit detail. 
Round Neck Sweater 
This lilac round neck sweater is the perfect way to add a little purple to your wardrobe! 
Swirl Tie-Dye Pullover
Try out the purplish-blue trend with our Swirl Tie-Dye Pullover, a comfy sweatshirt featuring a two-tone tie-pattern. It has a slightly oversized silhouette for a more relaxed look and is the perfect addition to your spring wardrobe. 
Tips for Adding Summer Colors to Your Wardrobe
The key to fashionably pulling off spring color clothes (and summer, too) is choosing your favorite of the trendy tones that flatter your skin tone and body, and integrating those colors in your repertoire. If yellow washes you out, try some lilac or hot pink instead. Fashion is all about confidence and dressing in what makes *you* feel your best! And if you are more of a neutral gal with your wardrobe options, you can still integrate the spring clothes colors into your wardrobe with your accessories: try an orange bag, some hot pink heels, or a yellow scarf to jazz up your white or black ensembles. These summer colors are a fun and exciting way to add more bright hues to your outfits! 
Shop for Spring and Summer at Pretty & All
Pretty & All offers apparel of the highest quality at prices you can afford. We have something that every woman can love and look forward to wearing! Check out our selection of apparel, accessories, and more to get a look you will love for this upcoming spring and summer.