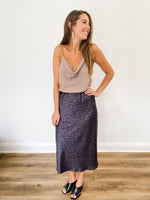 Color Blocking: An Inspiring Trend That Suits All Bodies
When spring and summer arrive, color will fill up our closets and all the fashion you see when you're scrolling through Instagram. It's the best time to experiment with bright fashionable trends, like color blocking. Color blocking is a trend that many women are afraid to try, but it actually suits all types of bodies! Not to mention, it's fun and an interesting way to mix up the pieces in your closet. Fashion is all about boldness and creativity. Let's go over the basics of color blocking so you can try this fun trend yourself this year! 
What is Color Blocking in Fashion?
We'll tell you everything you need to know about color blocking and how to make the most of your outfits.
History of Color Blocking
Color blocking started back in the 1960s. It was popularized by Stephen Burrows, a Black fashion designer who was heavily inspired by the disco era. The trend has persisted for decades, and has been seen everywhere from street style, to fashion runways, and even on modern-day style icon Kate Middleton! 
How to Color Block
Here's how to color block: mix two (or three, or more!) bold colors - or even contrasting colors - together to create one exciting and fabulous outfit. Color blocking is a fabulous way to express your personality through your clothing. And even better? It's a rare trend that suits every kind of body! Plus, vivid colors make your skin look vibrant and gorgeous. 
Why Color Blocking is Flattering for Everyone 
No matter your body type, color blocking is a fun, exciting, and flattering trend for every one to style. The key to color blocking is using colorful pieces to accentuate the parts of our bodies that we love, and more neutral colors on the parts we are more insecure about. 
Color Blocking for Apple Shaped Bodies
The best way to color block for apple-shaped bodies is to place bright colors around the top and/or bottom, with a darker or more neutral color around the waist. 
Color Blocking for Pear Shaped Bodies 
The key to color blocking for pear-shaped bodies is to wear a brighter color on top and a darker color on the bottom. 
Color Blocking for Banana Shaped Bodies
Try wearing a bright-colored dress and accentuating your waist with a belt in a different color. 
Color Blocking for Hourglass Shaped Bodies 
If you have an hourglass shaped body, try wearing one color on top and a different color on bottom! 
(P.S. You can take or leave this advice. Just wear what you love and make you feel your best!) 
Color Blocking Outfits
It can be expensive to buy a trendy designer color-blocked dress or jumpsuit. Luckily, it is possible to create a fabulous color-blocked outfit with pieces from your own closet or that you purchase for that purpose! To get started with color blocking, all you need are a few pieces in different hues. Here are some of our favorite pieces from Pretty & All to use for creating fabulous color blocking outfits. 
Cowl Neck Sleeveless Tank Top
Ease your way into the color-blocking trend and pair our Cowl Neck Sleeveless Tank Top in taupe with a bright-colored pair of pants or skirt for a charming spring look. 
Dusty Cedar Sweater
This wide neck sweater in dusty cedar is the perfect top to pair with a pair of colored leggings for a color-block look. It features a banded hem and cuffs, has a draped shoulder knit detail, and runs oversized (so size down!) 
Round Neck Sweater
Our Round Neck Sweater comes in the perfect shade of lilac (a very on-trend color for 2022!) and is a great color-blocking option for spring and summer. 
Dana Satin Top 
Your favorite spring and summer top - and perfect option for color blocking - is here, and she's perfect: it's the Dana Satin Top. You will reach for this blue satin long-sleeve blouse with center front shirring time and time again. Match it with a cute colored skirt or pants for the perfect color-blocked outfit! 
Tips for Color Block Fashion
Still unsure if you're ready to try color blocking? Here are some tips so you can't go wrong. 
Try Monochrome Color Blocking
For the trendiest look of 2022, choose one color and layer it in different shades or tones. (Yes, this still counts as color blocking!) 
Use Darker Colors to Your Advantage
Use a darker block of color to disguise the area of your body you aren't so excited about showing off. You don't only have to color block with bright, neon colors! 
Choose from the Same Color Family
Pick your favorite bold color, and then mix and match. Our favorite? Choose a pink top and a red bottom. 
Use Contrasting Tones
For the boldest color blocking look, choose two or more contrasting colors (aka colors from opposite ends of the rainbow) and make up an outfit! The bolder, the better. For example, choose an orange top and blue pants, or a yellow top and purple pants. 
Mix in a Print 
Don't be afraid to mix in a print, too! Try our Satin Leopard Print Midi Skirt and mix it with a bright-colored type for a fun, eye-catching look. 
Only Block Two or Three Colors, Max 
There is such a thing as too much of a good thing when it comes to the color block trend! Avoid mixing and matching more than two or *maybe* three colors when creating your color-blocked outfit. Try mixing the top colors of 2022 for a trendy look! 
Utilize Accessories 
If you still aren't quite ready to jump on the color block train, try wearing a neutral outfit with some bright accessories. Add some bright-blue Carrie Bradshaw heels to your outfit with a colorful handbag, or try a two-tone bracelet! 
Get More Color Blocking Tips from Pretty & All
Pretty & All has all the apparel you need to create beautiful color blocked outfits. We also offer in-person private shopping sessions for you, or you and a group of your friends! I can help you create the perfect outfits for all of your upcoming events. Browse our outfits and find the perfect color-blocking choices for you!