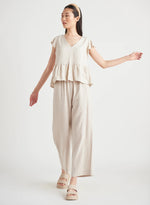 Retail Therapy You Can Feel Good About
For those of us who love the feeling of buying something new and exciting for our wardrobe when we shop, it can be difficult to determine what to buy and what to leave on the shelf. Retail therapy can have many positive impacts on personal health and happiness, however, sometimes you can end up buying something you don't really love, feel good in, or that comes from exclusionary, large companies instead of inclusive small businesses. In this article, we'll discuss how to engage in retail therapy you can feel good about and curb a potential shopping addiction with more selective shopping and purchasing.
What Is Retail Therapy?
If you've ever gone shopping at times when you feel stressed out or sad, you may remember how it improved your mood. Window shopping or buying something can produce some highly beneficial feelings in people. However, you may wonder whether retail therapy actually has the power to make you feel better. The definition of retail therapy is shopping to improve your mood and make yourself feel better. One study revealed that around 62% of shoppers purchased an item to cheer themselves up, and a further 28% bought something as a form of celebration.
While some may consider retail therapy wasteful, there are actually various psychological benefits to shopping and ways to curb your waste. Some of the positive benefits of shopping include helping you to feel in control, boosting your confidence, bringing you happiness, providing a distraction, and saving up money for purchases can also increase dopamine levels. 
Control
One of the psychological benefits of shopping is that it helps you feel more in control. Sadness is often associated with the feeling that you cannot control the surroundings and events of your life. Many experts believe that the act of making choices can restore a feeling of control. 
Confidence
Shopping for and wearing empowering items can bring you a feeling of comfort and confidence, and greatly improve your personal self-image. Choosing to shop with a size-inclusive company can also increase your options for confidence-boosting attire that brings other positive life benefits.
Happiness
You can also gain a psychological and emotional boost from browsing and shopping in stores or online. The anticipation of a reward or a treat releases dopamine into the brain, causing you to feel good and continue engaging in the activity that released this hormone.
Distraction
Doing an activity such as shopping can also provide a valuable distraction from the thing causing you sadness or distress. The colorful displays, bright lights, and attractive online products can give you a much-needed break from your reality.
Dopamine
Saving up to buy pieces you really love and feel good while wearing provides you with dopamine over a longer time. Saving up your money for pieces you feel good about is also a great way to reap the benefits of retail therapy while avoiding a shopping addiction or wasteful buying.
Size-Inclusive Shopping
In addition to the regular benefits you can experience from shopping, there are even more positive impacts of focusing on size-inclusive shopping and supporting size-inclusive businesses. In the last few years, the fashion industry has made progress toward creating more clothing options for every body type, not just a select few. However, there is still more work to do. Initially, the term "plus-size" referred to clothes above size 12. Size 12 remains the highest size many brands offer, making many people feel othered when browsing those brands. In some cases, plus-sized clothing is even in an entirely separate section.
In response to this lack of inclusivity, there has been a shift to using the term "size-inclusive" toward clothes offerings. The term "size-inclusive" means that in addition to providing sizes 0 to 12, the given brand also offers larger sizes in many of the same pieces. You won't have to seek out clothes in your size and the experience will feel inclusive. Size-inclusive shopping and supporting size-inclusive businesses provide the benefits of guaranteeing a fun shopping experience, boosting personal body positivity, increasing your sense of community, providing you with better-fitting clothes, and promoting body-positive values.
Guarantees Fun Shopping
Shopping at size-inclusive stores guarantees that you and everyone you shop with have a pleasant and fun shopping experience where everyone feels represented, valued, confident, and beautiful. With size-inclusive shopping, you and your friends can shop the same options.
Boosts Body Positivity
Shopping size-inclusive brands can greatly boost your personal body positivity. When you feel represented and valued throughout the businesses you support, you feel more positive toward your own self-image. You can find a lot of joy in accepting, exploring, and celebrating your body.
Increases Sense of Community
When a wider group of people, including your close friends and loved ones, all feel seen and represented when shopping, there is an increased sense of community. Acceptance is larger, body positivity is more prevalent, and a wider group of people feels connection and belonging.
Provides Better-Fitting Clothes
In contrast to plus-size options, size-inclusive options reflect a true range of sizes to cover as many various shapes and sizes as possible, without catering to one specific type of figure. Pretty & All provides this impactful size-inclusivity, so you can find accurate, fitting clothes.
Promotes Body-Positive Values
When you support a size-inclusive business such as Pretty & All, you are also promoting body-positive values at an economic level. Promoting body-positive, inclusive businesses and not supporting exclusionary businesses promotes and incentivizes body-positive practices and options for all businesses. This support thus allows for more acceptance and representation.
Experience Positive Retail Therapy With Pretty & All
For the best kind of retail therapy you can feel good about, consider shopping at size-inclusive businesses such as Pretty & All. Supporting Pretty & All means you are supporting a size-inclusive small business, and helping to promote size-inclusivity on a social, cultural, and economic level. This social, cultural, and economic support is one of the best ways to experience true retail therapy you can always feel good about!