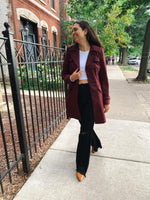 Why Size-Inclusive Fashion Doesn't Have to Be Boring
Tired of Empire Waists and Dull Prints? Why Size-Inclusive Fashion Doesn't Have to Be Boring
The world is evolving and fashion has to as well. Today, the average size of an American woman has gone from size 14 to size 18. The thin body type that brands have historically catered to is now outdated. More brands than ever are offering sizes past 16, but many still get the sizing and fit wrong for larger sizes. If you're tired of the same few styles that seem to be available for size inclusive fashion, check out this article!
Problems Facing Inclusive Sizing Options
As we all know, there are many problems retailers and consumers alike come across when it comes to size inclusive fashion. These are two of the biggest problems consumers who are purchasing this clothing may come across.
Knowing Your Shape
One thing many retailers do not understand about inclusive sizing is that not every curvy body has the same shape. In order to find pieces that best improve your wardrobe, you have to be able to figure out your body shape. The fashion industry considers there to be four different body shapes: hourglass, pear, apple, and rectangle.
In short, pear-shaped bodies are larger on the bottom and smaller on the top, with hips that are slightly wider than the shoulders. An apple-shaped body has a larger top half than lower half. They will have slimmer hips with a larger chest and stomach. An hourglass body has hips and bust that are almost of equal size with a more narrow waist. Rectangle-shaped bodies are proportionally shaped through the shoulder, waist, and hips. Each of these parts of the body will be close to the same measurement.
Finding Size Inclusive Sustainable Fashion
One of the problems many people face is finding sustainable fashion that is size-inclusive. Online, size-inclusive creators often get criticized for purchasing from fast-fashion retailers. Unfortunately, that is simply where most of the options are found. On-trend and sustainable fashion isn't something that many businesses are interested in creating. However, even if you shop from a fast-fashion retailer, you can choose items that are slightly higher quality. And the longer you keep the pieces in your wardrobe, the less of an impact you will have on the environment. 
Fun, Size Inclusive Fashion Style Guide
Here, we will describe some pieces you may want to add to your wardrobe to stop your wardrobe from feeling as boring as it might be right now.
Style Guide for Tops
When it comes to size inclusive fashion, one of the guidelines to keep in mind for tops is: If you've got it, flaunt it! You have beautiful curves, so you should wear items that accentuate them, not try to hide them.
Tops with deep necks like the classic V-neck can help elongate your torso and emphasize the chest area. But if you do not want to be too revealing, you can always choose a keyhole neckline. 
For something a little different, a wrap top can help break up the monotony of your wardrobe. These types of tops will wrap around your curves in just the right way. They can help make your waist look slimmer and elevate your style game. Tunics are also a great option for all women. But tunics do not have to be boring. You can always choose one with some floral prints or stripes to add more excitement. 
If you want to add some print to your wardrobe, it is suggested to go for small or medium-sized prints instead of large prints and chunky patterns. 
Style Guide for Bottoms
Mid-rise and high-rise slim-fitting jeans and trousers are great options for hugging the body in a flattering way. Slim-fit dark jeans are a classic item that is a must-have to any kind of body and that includes all body types.
Mom jeans offer a more casual look that is still uber-cool. They are also likely the best option when it comes to being comfortable. Straight-leg jeans are also very versatile and flattering. In short, don't limit what types of bottoms you think you can wear!
If you feel limited in your options for skirts, don't! Pencil skirts are an excellent way to celebrate your body for the way it looks and make the most of your beautiful curves. To best balance the body and elongate your curves, knee-length pencil skirts are ideal.
For shopping trips or short-notice meetings at the office, pleated skirts are excellent. They look cute and are very comfortable. A-line skirts are another classic for size inclusive fashion. They are often described as simple, sweet, and comfortable. 
Style Guide for Dresses
You've heard of it and you likely love it - the little black dress. The LBD is versatile enough that it can typically be pulled off on most occasions. The dark color creates a slimming effect and provides a sleek look. There are little black dresses everywhere in just about any kind of style and cut out there. It might take some time to find the right one, but it will be worth it because you will be able to wear it just about any day. 
For a breezy summer staple, an A-line dress is perfect. Go for a fun print in a color that speaks to you to add even more fun to your wardrobe. 
When choosing dresses, knowing your body type is crucial. For example, if you have a heavier torso (apple-shaped body), ruched, ruffled, or shirred dresses are ideal. If you have more of a pear body shape with a heavier lower body, you can look for empire dresses, A-lines, or fit and flares.
Style Guide for Winter Wear
The quality of winter wear items might be the most important part of your choice. You want materials that will not be flimsy with daily wear. 
As for the style of winter items, belted overcoats and jackets are one of the best things you can own. They don't have to be super-fitted but rather well-structured to show off your curves and provide the warmth and comfort you are looking for. 
Another cold-weather staple is a cute turtle neck. They are the perfect layering piece that is both comfortable and stylish. You can pair it with trousers for a smart, professional look or your favorite pair of jeans for something more casual. If you plan on using the turtlenecks as a layering piece, it is suggested that you choose turtlenecks or high necks in a neutral shade. If you're looking for something that will catch others' eyes, you can also choose a couple of turtlenecks in bold colors.