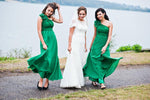 Bridesmaid Gifts Your Bridal Party Will Actually Use
Nothing is worse than giving a gift to someone that you know they will never use. You chose your bridesmaids because you love them dearly and the bridesmaid gifts you give them are an expression of that. You want to choose something that says thank you for being in my wedding, thank you for being a great friend, and thank you for spending all that money to be my bridesmaid. But what should you get them? Keep reading to find out!
The History of Bridesmaid Gifts
While giving your bridesmaids gifts is the norm now, it wasn't always. It began as a sign of wealth and status, since brides used to pay for all wedding party expenses too. The larger the wedding party and the more extravagant the gift, the wealthier the bride was. Today, bridesmaids are typically responsible for paying for their own dresses and other things like travel, hair, makeup, and hotel rooms. In response, bridesmaid gifts have become customary to reflect the time and financial commitment they have given leading up to the wedding day. 
How Much Should You Spend?
There are a few variables that will help determine how much you should spend on a gift for your bridesmaids. Take into consideration your relationship with them, how much work they've put into our wedding, and the number of expenses they have incurred to be a part of your bridal party. For example, if your wedding required your party to spend a lot on travel, a more luxurious and expensive gift might be appropriate. 
However, the most important thing to remember is that it's more about the thoughtfulness of the gift than the price. Your bridal party certainly isn't there because they expect a gift, they are there because they love you and want to support you on an important day. Take the time to really think about what kind of bridesmaid gifts your bridal party will use. This might depend on the person, so remember that you don't have to get everyone the same thing! The best way to ensure they will actually use the gift is to consider what each person will think is useful.
Bridesmaid Gifts Your Bridal Party Will Actually Use
When you're thinking of useful, memorable gifts for your bridal party, consider what your party appreciates and values. Any gift that helps reduce their out-of-pocket expenses for your wedding is a great option. You should also try to think local! Many gift ideas can be made more special by purchasing from a local small business.
Personalized Bath Robes
A personalized bathrobe can be a luxurious gift your bridesmaids can use on your wedding day and for years to come. You can get it personalized with their name, your wedding date, or anything else significant. The great thing about this gift is that they make for an adorable photo-op as you all get ready before your big day! And once the day is over, they can take it home as a memorable keepsake to remember the great day.
Spa Experience
A voucher for a spa treatment is a useful bridesmaid gift because they can use it before or after the wedding. Maybe they want a pre-wedding facial to ensure their skin looks perfect in all the pictures. Or maybe they'll enjoy a post-wedding massage to relax from the stress and excitement of the day. Either way, a spa treatment shows your bridesmaids that you believe they deserve to be pampered.
At-Home Spa Kits
Maybe some of your friends aren't the type to carve out time for a visit to a spa. In this case, an at-home spa kit may be better. They don't need to miss out on luxury and pampering! There are countless options out there for pre-made spa kits or you can build your own by picking unique items for each member of your party. You could include a face mask for your amateur skincare guru friend and a bath bomb for the mom in your group who never spends time on herself. Each kit can be different, making it a much more memorable gift. 
Shawls & Jackets
For a gift your bridesmaids will actually use, a shawl or jacket is a great option. Winter and fall weddings aren't the best for women in dresses. Even summer nights can get chilly sometimes. Something to keep warm, especially if personalized with their name or the date of the wedding, is a practical gift they can use to keep warm during the festivities. Plus, they can use the gift for weddings and other occasions for years to come. 
Jewelry
Some brides love having their bridesmaids wear the same or similar jewelry on the wedding day. Gifting earrings, bracelets, or necklaces are the most popular option for bridesmaid gifts. However, rings and watches can also be useful. Even if you don't necessarily want them to wear the jewelry on the big day, it can still be a cute thank you gift. Think about what type of jewelry each person wears in their everyday life, so you can choose something that they will get the most use out of.
Clothes, Clothes, Clothes
Let's face it, you can never have enough clothes. And knowing the brand you go with is size-inclusive can feel like an impossible task. Fear not! Pretty and All has you covered for your apparel needs. Tailor your picks to each bridesmaid, or give gift cards to ensure your wedding party loves their new fit. 
Heartfelt Letter
If money is a big concern of yours, we totally understand - and your bridesmaids will, too. A cute thank you letter is a lasting memento of your friendship that your bridesmaid will cherish forever. Yes, a physical product is great, but an item that truly means something is even better. In the letter, you can tell each bridesmaid how important they are to you, why you wanted them by your side on your special day and your appreciation for their support during the planning process. 
Show Your Appreciation on Your Special Day
While your wedding day is all about you and your significant other, it wouldn't be possible without the people by your side. A thoughtful gift will show your bridesmaids that you appreciate everything they have done in the lead-up to the wedding and for as long as you've known each other before that. Don't be afraid to think outside of the box. After all, you know them better than anyone else. Whatever you choose, it will be meaningful because it came from you.
If you're looking for a small business to support as you peruse your options, we at Pretty and All would be honored to be a part of your big day. After all, our goal is to provide inspiration to dreamers who want to crush their goals and look amazing while doing so. So dream big, brides-to-be. We'll be here for you the whole way.