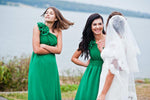 How to Keep Your Bridesmaids Cute and Comfortable on the Big Day
Being a bridesmaid often brings with it a long to-do list and the commitment of a lot of time, money, and energy. If you're like most brides, you want your bridesmaids to have the time of their life on your big day. Keeping your bridesmaids cute and comfortable on the big day can go a long way to ensuring they have as much fun as possible. 
How to Keep Your Bridesmaids Comfortable on the Big Day
There are a lot of things you as the bride can do to set your bridesmaids up for a great day. If they're happy, that energy will radiate to you as well! These are some of our favorite ways to keep bridesmaids comfortable on the wedding day.
Pre-Wedding Lounge Sets
Women know all too well that a special occasion like a wedding begins long before the official start time. It begins when you start getting your hair and makeup done. On a day as big as a wedding, this is a process that can take hours. This is partly the reason why matching lounge sets are one of the biggest bridal party trends right now. Wearing these cozy sets keeps the bride and bridesmaids comfortable and cute as the long "getting-ready" session takes place. It also makes it easy to prevent messing up your hair or makeup when it's finally time to change into your dresses. 
And not only do they keep your bridesmaids comfortable, but lounge sets also make for great pictures! Everyone wearing cute, matching sets makes for adorable photo ops, both by your professional photographer and the selfies you'll take on your own phones. Make sure your lounge sets are comfy and size-inclusive to best suit your whole wedding party. 
Allow Flat Shoes
Once someone gets blisters on their feet, they can be essentially useless. It's painful to continue walking around (or dancing) when your uncomfortable shoes have hurt your feet. If you want to make sure your bridesmaids are able to be up and moving around, consider letting them wear flat shoes. Plus, if the dresses you chose for your bridesmaids are long gowns, you all will be the only ones who know they're not wearing heels anyway. For brides who insist on their bridesmaids wearing heels, consider making that the rule only during the ceremony. Once the fun starts, the comfortable shoes can come on.
Consider the Elements
Even if the wedding ceremony isn't outdoors, many brides and bridesmaids take pictures outdoors. This means you will need to brave the elements. Unfortunately, the weather is unpredictable, so you may want to plan ahead in case of rain, snow, or cold. The good news is that there are many options for how you can protect yourself from the elements. For example, for a winter wedding, a faux fur stole, shawl, or Pashmina scarf pairs perfectly with just about any color gown. In the case of rain, you could have fun-colored rain boots ready for your bridesmaids for some unique photos and comfort.
How to Find Comfortable Bridesmaid Dresses
Just like you're going to be spending hours upon hours in your dress, so are your bridesmaids. And a lot of that time will be spent running around, taking pictures, and dancing. The dress that you choose for your bridesmaids will have a big impact on how comfortable they will be. Follow these steps to have a successful search for some comfortable bridesmaid dresses.
Keep Costs in Mind
Traditionally, bridesmaids pay for their own dress. So even though it's your day, it's important to be considerate of your friends' lifestyles. Keep in mind that it is likely not the only thing they're paying for in relation to the wedding. If you want your bridesmaids to truly be comfortable on the big day, make sure they're not overwhelmed by needing to wear an expensive dress that they can't actually afford.
Flatter Their Figures
Perhaps one of the most difficult parts of planning a wedding is deciding on bridesmaid dresses. After all, you have multiple people with different body shapes, skin tones, budgets, and opinions to consider. But for them to be comfortable, they have to like what they're wearing. Consider what each of them will enjoy wearing the most. For example, if your bridesmaids avoid super-fitted clothing in their daily life, they probably won't feel comfortable wearing a super-fitted dress on your wedding day.
If you are struggling to find one dress that works for all of your bridesmaids, think about picking a color or range of colors and allowing them to choose their own dresses. You may want to set guidelines like ensuring everyone wears long dresses or short dresses, but then, let them decide. 
And while this might seem obvious, make sure you check the maximum size available for any dress you are looking at. We are all about size-inclusive fashion! You don't want to leave anyone out or make them purchase a size too small. Trust us, your friends will thank you for making sure that doesn't happen. 
Consider The Venue
We mentioned this earlier, but it is worth saying again: make sure you consider where you are getting married as you choose your dresses. There's no doubt the venue you chose also influenced your decor, but it should also influence your attire. For example, if you're having a beach wedding in the summer, go with breathable dresses without sleeves. And if you'll be in a cooler climate, don't choose strapless dresses and expect your bridesmaids to brave the cold. If you're in love with a strapless silhouette, make sure you provide a shawl or wrap to keep them warm.
Your Bridesmaids Play an Important Role
Why spend all this time and energy on making sure your bridesmaids are comfortable on your wedding day? After all, isn't it all about you? Yes, to some degree. But your bridesmaids are there for a reason. They supported you through all the ups and downs that led you to the big day. The least you can do as a thank you to them is to make sure they are comfortable and therefore better able to enjoy the day. 
You want your wedding day to be a day you all look back on not only because it was beautiful, but because it was fun! And if you're looking for that extra touch to keep your bridal party happy and give them a perfect reminder of the experience, we hope you consider stopping by Pretty and All! It would bring us so much joy to be a part of your special day.