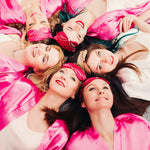 Matching Bridal Loungewear Makes for Great Photographs on Your Big Day
You never really need to come up with an excuse for investing in a great loungewear set. But a wedding on the horizon is a great reason to splurge. Matching bridal loungewear is something both you and your bridal party will make great use of on your wedding day. In fact, many brides have started the tradition of buying bridal party pajamas that everyone wears as they get ready before the wedding. These comfortable sets serve a practical purpose and can make for great wedding photography on your big day.
Reasons to Get Matching Bridal Loungewear
Not convinced that bridal party pajamas are worth it? We have to disagree! One of the best parts of a wedding day is the time you spend with your best friends getting ready for it. And likely, a wedding photographer will be in the room capturing all the preparation. With matching bridal loungewear, you'll be able to look back on gorgeous photos of your big day – and give your bridesmaids a memento to remember it by.
Everyone Will Look Cohesive 
We've all been there a few times – you head out for a night on the town with your friends and get cute pictures together. Except, there are inevitably one or two people whose outfits just don't mesh with the rest of the group. It definitely doesn't affect the fact that you all had a great time, but you probably would like the photo better if everyone's outfits were coordinated.
There's just something about bridal party photos with well-coordinated outfits that makes them look better than usual. Matching bridal party pajamas ensure that your party looks well dressed and cohesive from the minute the camera starts snapping photos.
Eliminates Confusion About What to Wear
So your bridesmaids all know what they're wearing during the wedding, but what about before? Nothing is worse than showing up in something way more formal or way less formal than what everyone else is wearing. Plus, you and your bridesmaids will all have a lot on your plate on the wedding day. You can take away at least one of those decisions by ensuring everyone knows what they should wear pre-wedding by gifting them matching loungewear sets.
They Are Keepsakes 
There are a lot of mementos people can take away from a wedding. But your bridesmaids deserve something a little more special than everyone else. Comfortable, stylish loungewear sets are memorable keepsakes that your friends can hold on to for years to come. Every time your bridesmaids put them on, they'll think about that special day you all celebrated together.
They Make Great Gifts
There's a reason you chose your bridesmaids to stand by your side on your wedding day. They've supported you through everything. From your first date to helping you plan your wedding day, they've been there for you. A great way to say thank you to them for their friendship and their support is with a little gift. And bridal party pajamas are an excellent choice since they are both practical and fashionable.
Perfect Getting Ready Outfit
Outside of being comfortable and making for great photos, matching bridal party pajamas make getting ready a breeze. You're all going to be getting your hair, makeup, and maybe even nails done in the hours before the wedding. The last thing you want is to get any of these products on your dresses! Pajamas are perfect for easily slipping on and off as you go through the various steps of getting ready. You'll all be able to quickly get out of your PJs and into your beautiful dresses when the time is right.
Your Options Are Endless
Luckily, many brands have gotten in on the loungewear trend in the past couple of years. Today, there are more chic and stylish loungewear sets on the market than ever before. When choosing your bridal party pajamas, it's important you don't just buy the first set you see. Make sure you pay attention to the choice of fabric and the color. If you truly want your bridesmaids to be comfortable, opt for a luxurious fabric like satin or silk. If you are more concerned with the photos that will be taken, be considerate of how the colors will photograph. 
Matching Bridal Loungewear That Will Make Great Photographs
From ultra-casual oversized t-shirts to formal nightgowns, there are loungewear sets out there that fit the vibe of your wedding. You can choose to have everyone wearing the same look or vary them slightly for each person. And don't forget to consider how you will stand out from everyone else, too. Maybe you want to wear something slightly different than everyone else.
Button Down Tops
You just spent hours (and a lot of money) on getting your hair done. You do not want to be worried about how you can get your pajamas off without ruining your picture-perfect hair. A button-down can easily be taken off without even getting close to your gorgeous hair. You can thank us later.
Sleep Shirts
None of you will be sleeping in the hours leading up to the wedding, but that doesn't mean you can't wear a sleep shirt. These are great for no-fuss brides and bridal parties who are focused mostly on comfort. And as an added bonus: you don't have to worry about buttoning up pants!
Short Sets
Put several women and their hair and makeup artists in the same room and things are bound to get a little warm. Pajama short sets will help keep your bridal party comfortable and cool even in an overflowing room.
Fluffy Robes
Instead of pajamas, what about a cute robe to get ready in? You can choose from a fluffy, cozy robe or something sleek and silky, depending on the vibe you want in your wedding photography. Either way, you and your bridal party will feel like they are being truly pampered as they get ready in their matching robes.
Comfort & Class
No matter what you choose, matching bridal loungewear will add an element of comfort and class to your wedding photos. And who doesn't want their best selves captured on their special day? Keep you and your bridesmaids cozy and cute and let the photographer take care of the rest. 
And if you're looking for that extra keepsake for your wedding party, we hope you stop by Pretty and All for our Bride to Be collection. We are here to keep you and your wedding party pretty.