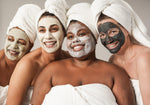 How to Pamper Your Bridal Party
The people in your bridal party are some of the most important people in your life. They've stood by you through thick and thin and now they'll play an important role on one of the most important days in your life. Whether you've known them since kindergarten or you were roommates in college, your bridal party is made up of some special people. That's why it's important to find ways to show them how appreciative you are of everything they have done for you. 
Weddings are a stressful time for just about everyone involved. Most everyone could probably benefit from a little bit of pampering either before or after the wedding. You can encourage your nearest and dearest to pamper themselves with pampering gifts or products as a thank you to them. If you're not sure how you can pamper your bridal party, we've put together a list of all of our favorite pampering products and experiences!
Before the Wedding
Just like you, your bridesmaids could probably use an opportunity to relax before your wedding. These are five ways you can pamper your bridal party pre-wedding day. 
Face Masks
Nothing says fun and relaxation like a night full of face masks. You can take your bridal party to a spa to get professional face masks done but the at-home option can be just as fun. There are tons of at-home masks available from mud you scoop on your face to alien-looking sheet masks. Each bridesmaid can cater the face mask they use to their own skin concerns, so everyone leaves feeling and looking their best. You can double up on using a few masks in one session while you have a chat session or watch a movie.
Tea Time
Tea time is not just reserved for the British! A lot of bigger cities have a team room where you can dress up in your fanciest clothes and attend a "high tea" featuring cute sandwiches and desserts. This is also a great option if you want to get the older women in your life involved in the pre-wedding festivities, too. Consider inviting your grandmother, mother, or aunts along for a fancy and fun time.
Massages
Do you feel like everyone has been a little tense about your upcoming nuptials? You're probably right. A great pampering gift is a voucher or pre-scheduled appointment for a massage. Just like you, your bridesmaids are probably busy women with a lot going on in their lives. You'll all benefit from taking the time to relax and pamper yourselves. You can search for coupons to make this gift as inexpensive as possible or you could hire someone to come to your home to make it an even more relaxing experience.
Pedicures
Closer to the wedding, you could pamper your bridal party with pedicures. Enjoy a foot and lower leg massage along with it by visiting a local nail salon or spa. Or, you can round up a bunch of colors and scrubs at home. Helping everyone look and feel good is a great emotional boost for everyone involved, as well as being a fun experience for everyone. A treat like this is especially luxurious if it's something many of your bridesmaids do not do on a regular basis.
Bridesmaid Survival Kit
For a pampering gift that is a little more unique, you can put together a "survival kit" for each of your bridesmaids. The wedding day will be fast-paced with tons of things happening, schedules to keep, and more. You can help make sure your bridesmaids are prepared for anything that comes their way that day with a thoughtful survival kit. You can include things like an energy bar, coffee or water, spare tissues, travel-size deodorants, and anything else you can think of! You never know what might be useful in the moment.
After the Wedding
The wedding hangover is real, and not just for the bride and groom. It takes a lot out of everyone involved. You can make sure your bridal party has everything they need to recharge after an exciting day with these pampering gifts.
Longewear
Bridal party loungewear is here to stay, so make this fashion trend a part of your big day! You can certainly gift athleisure sets before the wedding, so everyone wears them while you get ready. Or, you can gift them as the perfect post-reception outfit change. You can get the outfits personalized with their initials, the wedding date, or anything else you can think of. Your bridal party will feel like the queens they are every time they slip into something more comfortable. 
Slippers
After a long day of walking down the aisle and partying on the dance floor in high heels, your bridesmaids will appreciate the opportunity to kick up their feet and relax in some cozy slippers. Slippers made from a comfortable fabric like shearling are fun and fashionable, so your party can relax in style when the party finally dies down.
Bath Products
For those who love a good soak, there's no better way to relax after an eventful weekend than with a lush bath. Bath salts or bath bombs are a great pampering gift that can infuse the body with minerals. They come in countless scents to help your party relax, rejuvenate, or re-energize. Similarly, a sugar scrub can make for a lavish bathtime. Often infused with essential oils and moisturizing ingredients, your bridesmaids will step out of the bath feeling exfoliated and moisturized. 
Don't Forget to Pamper Your Bridal Party
In the excitement of your big day, it's easy to be preoccupied with only what you need. But don't forget about your bridal party and the important role they play in the day as well. They deserve to be shown appreciation for everything they have done to prepare for the wedding and make sure it goes off without a hitch. 
Consider rounding up some of these pampering products to show your besties how important they are – and how thankful you are for having them by your side. And if you're looking for that extra keepsake for your wedding party, we hope you stop by Pretty and All for our Bride to Be collection. We want to help make your special day even all the more pretty.