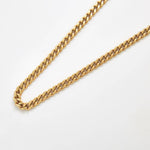 The Minimalist Revolution
The Minimalist Revolution: How to Accessorize When Less is More
Minimalist fashion has become one of the hottest trends in the clothing industry recently, going against the typical "more is more" type of consumerism. But just because your wardrobe consists of fewer pieces doesn't mean you can't include accessories in it. In fact, minimalist accessories can make your wardrobe even more versatile.
What is Minimalist Fashion?
Minimalist fashion has been around for a long time but has gained a lot of steam in the last few years. Minimalism is all about getting rid of what's unnecessary and keeping only the things that provide you with real value and bring you joy. In a world where we're constantly told that more is better, making your style minimalist can be difficult. There is no magic number of clothing items or accessories that define minimalist style. Instead, it's about fine-tuning what you do have and ridding yourself of the excess.
Adding Accessories to Minimalist Outfits
Since minimalist style is characterized by a smaller collection of clothes, many people fear that it will become boring very quickly. But just because you have fewer clothes doesn't mean you have fewer options. Plus, adding accessories to your wardrobe is a great way to combat this potential for boring outfits. Accessories include anything like jewelry, scarves, purses or bags, and hats. Different minimalist accessories can completely change the look and feel of the same outfit. They can quickly dress up or dress down the same pieces or simply change it up. Even with fewer clothes, having options for accessories can provide you with plenty of options. 
The key to choosing what accessories you should add to your collection is choosing ones that add interest and variety while still keeping your wardrobe streamlined and clutter-free. Just like when you are choosing the clothes that you buy, you want to be sure that the accessories you choose will be versatile. If you only see yourself wearing something with one type of outfit, you should probably keep looking.
What to Look for in Minimalist Accessories
In choosing the best pieces for your minimalist outfits and assessing your current selection, make sure you are looking for these key things.
Something You Love
Just because it's something lots of other people are wearing doesn't mean you have to like it or wear it. Every piece that you own should be something that you truly enjoy wearing and even makes you happy to put on.
Suits Your Preferences and Lifestyle
Maybe bracelets always get in the way while you are typing or working. Or maybe earrings tend to get caught in your hair and bother you. If this is the case, the pieces defeat one of the main purposes of minimalist accessories: function. The accessories should never get in the way of your everyday life.
Similarly, maybe you love sparkly, dangly earrings but you only have an occasion to wear them a couple of times per year. If that is the case, you probably don't need 10 different pairs, no matter how much you like them. They don't suit your lifestyle and therefore, they wouldn't make sense to have. 
Suits Your Wardrobe
There are a couple of reasons some accessories may not fit your wardrobe. First, capsule wardrobes are often built around a couple of basic colors. If your wardrobe uses a lot of the color black, a navy purse might not be a great choice since it won't be as versatile. Second, if your wardrobe is very street-style inspired, big sparkly pieces probably won't make much sense. Always think about how the accessories can truly be incorporated into your everyday outfits.
How Can I Share My Love of Jewelry as a Minimalist?
Just because you've committed to a minimalist style, that doesn't mean you can't wear a variety of jewelry. Accessorizing is meant to be fun! This means there are no hard and fast rules you need to follow.
A great rule of thumb is to let one piece of jewelry have the spotlight at a time. If you want to wear a statement necklace, choose simple earrings. Or you might choose to wear bracelets instead of earrings to let the necklace be the focal point. Decide on what your statement piece will be and then tone down your other pieces if you choose to wear them.
Minimalist Accessory Staples
Classic, timeless accessories are pieces that will work with your wardrobe for years to come without looking dated. Once you have established your basic pieces, you can add a few trendier pieces, too.
Stud Earrings
Stud earrings can come in pearl, diamond/cubic zirconia, or metal materials. Whichever type you choose, these are perfect effortless and timeless pieces. If you want earrings you can throw on without thinking about it, stud earrings are perfect.
Statement Earrings
So you have your everyday earrings, but what about those special occasions? Or maybe you want your earrings to be the star of your outfit. In this case, a pair of drop, dangly, or sparkly earrings can be great. You might want to start with earrings that are in your favorite metal (gold, silver, rose gold) and later add options that might be trendier or have more of a pop of color.
18" Necklace
An 18" length is considered by most to be the most universally flattering length of necklace and will be one of the most important minimalist accessories you should own. Look for something that is simple but adds just a touch of sparkle. Having a necklace like this will work with a variety of outfits and be wearable for many different occasions.
Statement Necklace
Just like you want simple earrings and statement earrings, the same goes for necklaces. Statement necklaces are typically chunkier and may be able to stand on their own as the only accessory with a particular outfit. 
Handbags
While many women like to have a collection of handbags in their wardrobe, most have one or two that they use nearly every day. But the size and style that will work best for you will depend on your lifestyle, activities, and preferences. If you often carry your laptop around with you, an oversized tote style might be best. If you're often on the move and need both hands to keep up with your kids, a crossbody bag might be better. Decide the style and size that works best for you and then look for a color that mixes and matches well with the clothing in your wardrobe.
Minimalist Fashion
Use these tips and tricks to create the perfect Minimalist wardrobe that suits your style. Let minimalist accessories make your wardrobe even more versatile!