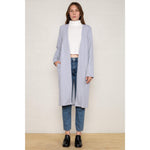 Timeless Pieces Every Woman Should Own
Having a wardrobe full of timeless clothing pieces may not be as pricey or impossible as you think. With clothing that you know will last for years to come, you can easily justify spending a little more on it. But where do you even begin? We've put together the perfect list of the pieces you need to get started.
10 Timeless Clothing Pieces to Add to Your Wardrobe
With these ten timeless wardrobe essentials, you'll never again think to yourself, "I have nothing to wear!"
Relaxed Denim Jeans
Yes, sweatpants are great, but denim is forever. Luckily, straight-leg jeans are definitely in style if you aren't fans of the sometimes restrictive skinny style. A classic pair of high-waisted, straight-leg jeans will look chic whether you pair them with heels or sneakers. If the idea of uncomfortable jeans turns you off, we are here to tell you that is not the case for every pair. When you find a pair that is both comfortable and flattering, snatch them up right away.
Simple T-Shirt
The foundation of many classically chic outfits is a simple t-shirt. You can choose cotton, silk, or linen shirts to mix and match with your other timeless clothing pieces. Having one in white is a necessity, but you're probably going to want one in a few different colors as well. You can also choose whether you want a more fitted t-shirt or one that hangs loosely to style with a French tuck.
Midi Dress
A midi dress is one of the most versatile styles of dresses you can own. Their length means they're comfortable enough for everyday activities while still being acceptable for more formal occasions. And with several different styles from which to choose, there's something for everyone. Some of our favorite midi dress silhouettes are the shirtdress or wrap-around. 
Little Black Dress
Would a conversation about essential clothing be complete without mentioning an LBD? Just because everyone has one doesn't mean it's easy choosing the RIGHT one. Don't rush this decision! Selecting the silhouette that you feel the most confident in will make all the difference. But if you're wondering if there's one style that suits absolutely everyone and every occasion—it's the A-line. 
Cardigan
Cardigans are the cozy, timeless clothing piece you can wear just about every day. They are the perfect piece to make any outfit just a little bit more interesting. Cardigans come in many different shapes and sizes, too. You can find them in cashmere, wool, cotton, jersey, and much more. There are also silhouette options like round or v-neck, buttoned or wrap-around, and with or without pockets. Keep in mind the general rule is that the thicker the fabric, the more casual it looks. In addition, chunky knits tend to be easy to take care of since they won't require ironing.
Statement Blazer
A classic statement blazer—maybe in a fun color—is a true wardrobe essential. You never know when you might need one. Maybe you need something extra to pull together a look for dinner or a substitute for a jacket when temperatures are mild. Perhaps you may even need a "this goes with everything" jacket to throw over a more formal dress. You can use a statement blazer with just about any outfit.
Denim Jacket
You know, when it's not hot, but it's not cold either. A denim jacket is basically the perfect piece for that in-between weather. It can be worn many days in a row without getting old as long as you combine it with different outfits. You can layer it over a pullover, over a midi or maxi dress, or a plain t-shirt. Denim jackets come in every wash, so you can go for a classic blue denim or even black if that fits your wardrobe better.
Trench Coat
Another one of our favorite timeless clothing pieces is a trench coat. It's a pretty undeniable fact that everyone looks cool in a trench coat. With most of the other pieces we've mentioned, you can choose one that best fits your style. However, with this one, you'll want to stay classic. A classic trench coat has lapels, buttons, and a belt. Also, make sure you choose one in a length that suits your figure, which is typically just above your knee. Beige may be the most recognizable color for a trench coat, but khaki, black, and navy are some other great choices.
Gold Jewelry
While not technically a clothing piece, no timeless wardrobe is complete without some gold jewelry pieces. There's a reason it has never gone out of style! Plus, how you choose to incorporate gold jewelry into your wardrobe is totally up to you. You could go with a chunky chain, bracelet, or earrings. A cute gold ear cuff is also a great, subtle choice if you don't have piercings. 
White Sneakers
Every good outfit needs a good pair of shoes to go along with it. Sneakers are the most comfortable shoe choice you have and they're no longer purely casual. They've quickly gone from being street style to smart-casual and are even now becoming acceptable in more formal occasions. Dresses, denim, wide-leg trousers—you name it, white sneakers go with just about anything. Typically, the more minimal the sneaker's design, the easier it will be to transition between occasions. 
Pro tip: Dedicate a little extra time and money to your trainers by investing in a stain protector. You'll want to wear these all the time, which inevitably will make them dirty. You can protect them from big stains with a protector. You can also wash the laces occasionally and scrub the soles to keep them in mint condition.
Don't Rush Your Wardrobe Essentials
The best piece of advice we have for curating your essential clothing is not to rush it. Don't settle for the first choice that you see. Make sure you choose pieces that are a flattering and comfortable fit and speak to your style. Even though these are timeless clothing pieces, that doesn't mean you're going to have the same thing everyone else does. There's still a lot of room for choosing a unique piece and styling it your way.