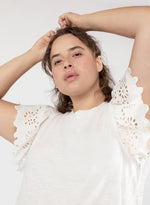 We know shopping from a massive retailer can seem like the most convenient and least expensive option. However, shopping at a boutique offers a unique opportunity. Today, there are tons of trendy online boutiques that you can shop from, and for good reason. Here we'll discuss what a boutique is and why you should support these cute clothing stores. 
What Is a Department Store?
The Bon Marché in Paris is generally considered to be the first department store. This store started early in the 19th century. It wasn't until 1875 that the concept was brought to America by a businessman named John Wanamaker.
At one time, department stores were a little bit of a novelty. They were known for offering a luxurious shopping experience that you couldn't find anywhere else. Today, these big box stores are all too common and they rarely ignite the excitement for shopping that they once did. After all, we understand how hard it can be to get excited about the same clothing that you know is available at thousands of other locations throughout the country.
What Is a Boutique?
The word boutique comes from a French word that translates to "shop." The term encompasses lots of different stores. The one thing they have in common is that they are specialized. They have smaller inventories of specific types of items and are often run by small business owners instead of huge corporations.
Boutique vs Department Store
Aside from these things, what is the difference between a boutique and a department store? There are four main distinctions that you should consider when choosing where to shop
Size
A business's size is generally a good indicator of whether a business is a boutique or a retail store. For example, many boutiques are smaller physical locations. They may be limited to one or a few physical locations or only online. Meanwhile, a department store will take up a much larger physical space and often have several locations in several different cities. Due to their smaller size, boutiques are known for being quaint and charming, while a department store is often considered impersonal.
Smaller Variety
Boutiques often have a smaller variety of goods. This means that a clothing boutique likely only sells clothing. A furniture boutique may only sell furniture. A department store could sell everything from clothing to makeup to homewares to luggage. The goods within the categories sold at a boutique are often limited as well. Instead of countless tops in all different colors and styles, there may only be a select few. The buyers for a boutique have to be very selective when ordering their inventory.
Pricing
The price of clothing is directly related to the volume of inventory a business has. A boutique purchases small quantities of goods from smaller to mid-size companies. Meanwhile, retail stores often manufacture their own clothing lines. They could also supplement with purchasing from other large corporations. Because they buy in such large quantities, their prices are able to be a lot lower. 
Owners Make All the Difference
Generally, the owner of a boutique is someone who has poured their life into the store. From the idea to the execution, it is all on that person. Passion is something that is essential to the success of a boutique. On the other hand, retail stores are owned by large corporations and operated by managers. Of course, they want to keep making a profit, but if income is lost, they likely do not personally suffer. A boutique owner's life will depend on the income they can generate from their store.
Advantages of Online Women's Boutiques
Trendy online boutiques are known for offering a unique shopping experience you can't find anywhere else. These are some of the advantages of shopping at an online women's boutique instead of a big-box retailer.
Unique Style
As mentioned earlier, department stores often sell the same items at hundreds, if not thousands, of locations. So anything your purchase is likely being worn by countless other people. This can take away some of the enjoyment of looking for that one perfect piece. A smaller, cute clothing store is a place to find unique items that you won't see anywhere else. Often, online boutiques are tailored to different styles, so you can find pieces that fit your personality the best. You might find strictly boho-inspired clothing at one boutique while another one focuses on simple, timeless pieces. If you want to express your style and personality through your clothing, a boutique is the way to go.
Personal Connections
Yes, even an online boutique can offer a personal connection. Generally, boutiques are more than just stores, they're style educators. A lot of consumers struggle with styling themselves whether it's due to a lack of knowledge or a lack of time. That is, until boutiques show them how. They visit a boutique's website or social media pages to find inspiration and tips on how to style themselves. Online boutiques can inspire customers to take charge of their wardrobe and use it to feel good about themselves. 
Support Small
This can't be said about every trendy online boutique, but many of them are small businesses. They may be owned by one or two people who feel passionately about providing access to unique clothing to everyone. Each time you shop from a small online women's boutique, you support someone's personal business, something they may have saved up for and dreamed about for years. 
Shop From a Trendy Online Boutique
If you're looking for a trendy online boutique, you've found it in Pretty & All. We are a small, size-inclusive boutique offering a hand-picked, curated collection of items that will make you look and feel good. We are proud to offer beautiful pieces in sizes that other boutiques may not sell. We believe that everyone should be able to walk into a store or visit a website and see something they can actually wear. Check out our selection of clothing and jewelry to find your next favorite item in your wardrobe!