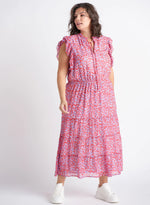 Effortless Size-Inclusive Summer Dresses
"Plus-size" and "size-inclusive" are terms that are often used interchangeably. When people use either term, they are probably referring to clothing that extends beyond size 16. However, for women who wear these sizes, the distinction between the terms is important. As you're browsing unique clothing brands for your own summer dresses, you may need to keep these terms in mind.
Plus Size vs Size-Inclusive
"Plus size" is any size above 16. This term refers to the 67% of women in the United States who wear a size 16 or up. Despite the fact that this is the majority, "straight" sizing is considered the standard.
For plus-size clothing, shoppers generally need to head to the back of a retail store to find their sizes. Or, they may have to go to another store altogether. In many cases, plus-size clothing isn't available in stores, you can only get it online. Plus, many styles are only offered in standard sizes. Plus-size collections often have a limited number of styles and they'll almost always be different from the straight-size styles offered by the same company. Finally, many brands will launch a collection of 2X or 3X clothing and call it "plus-size." 
The term "size-inclusive" recognizes the exclusive nature of having separate "plus-size" collections. Size-inclusive collections from unique clothing brands make it a priority to sell the same clothing in all size ranges. Where other collections will have separate offerings for plus-sizes and straight sizes, size-inclusive collections will have the same items available in a size 2 that they do in a size 32. 
Flattering Summer Dress Styles for All Body Types
If you're looking for a dress in a size up, these are the styles you should look out for. 
A-Line Dresses
An A-line dress creates the impression of an hourglass shape. They have a fitted top and torso that flares out at the waist in a triangular shape. This summer dress style is flattering for women of all body shapes and sizes. Typically, a sturdier material is better for women with a fuller figure. For example, cotton, rayon, denim, and polyester are better options than silk or satin. These stiffer materials help retain the shape of the dress, making it flattering for all body types.
Empire Dresses
An empire dress gathers just below the bust instead of at your natural waistline. This places the emphasis on your upper body instead of your lower body. This dress style is especially suitable for women with oval, rectangle, or triangle body types. These dresses come in a variety of lengths. They could be a short tunic or mini dress all the way to something that brushes against the floor, similar to a maxi dress.
Peplum Dresses
Peplum dresses have a raffle at the waist, with an otherwise slim-fitting body. This style creates a curvy, hourglass figure. The underlying dress is similar to a bodycon, but with an added ruffle wrapping around the natural waist and flaring out a few inches. This creates the illusion of your waist looking smaller compared to your shoulders and hips. This style is particularly suitable for rectangle or oval-shaped body types who want to balance their waist against the rest of their body. Overall, this is a very slimming summer dress style.
Straight Dresses
This dress style is comfortable and effortless. If you are someone who likes a more casual, cool wardrobe, this style would be great for you. A straight dress doesn't have a built-in waistline, but falls directly from the shoulders. This style works great on women with shoulders that are the same width as or wider than their waists. For example, rectangle or apple-shaped bodies. The beauty of straight dresses is that they can come in virtually any material, including knit summer dresses for the winter.
Off-The-Shoulder Dresses
An off-the-shoulder dress has sleeves that wrap around the shoulders instead of going from front to back. This creates the effect of adding weight to your upper half, making this a great style for balancing out women with shoulders that are more narrow than their hips. An off-the-shoulder dress that also has an A-line silhouette can create an hourglass figure for women with rectangular body shapes.
Wrap Dresses
Wrap dresses cinch at the hips, both slimming and emphasizing your waist to better flatter your figure. Usually, these dresses come with a criss-cross v-neck that also brings shape up top and elongates the neck. This is another style of dress that is flattering on every body type. However, those with round, oval, triangle, or rectangle body shapes will benefit the most from this style. 
Choosing the Best Dress: Color and Occasion
Now that you're familiar with some of the most flattering size-inclusive dress styles, there are still a few more things to consider. Ultimately, finding the best dress from a unique clothing brand is also about finding a flattering shade and matching your outfit to the occasion it is for.
Color
We're sure you've heard that black is considered a "slimming" color. However, if that's your main reason for choosing a black dress - think again! It's true that dark colors can downplay areas of the body, but that doesn't mean you should shy away from color. Adding some bright colors to your wardrobe in dresses is a great way to play up your assets. Maybe a blue dress will really make your eyes pop or a green dress will really play well with your red hair. 
Don't be afraid to mix and match light and dark colors. For example, you could wear a violet belt from a unique clothing brand over a yellow-colored A-line dress. The dark color of the belt will de-emphasize the waist and help make the torso look longer.
Occasion
Many dresses are versatile, depending on the jewelry, shoes, and other accessories you pair with them. Still, some formal events require a special occasion dress. For example, empire-waist dresses may be too casual for a business meeting. An A-line or peplum option might be better as it has more structure. Make sure the dress you wear fits with the formality of the occasion you are attending. 
Choosing Summer Dresses
Summer is a time to play with color, styles, and more. If there was ever a time to have fun with your wardrobe, it's during the summertime. Look out for unique clothing brands that offer fun dresses that you may not be able to get anywhere else. Finding a size-inclusive collection to shop from will make looking for your dress even more fun. Instead of being disappointed that the dress you like doesn't come in your size, you'll know that it can! This means there's no shame if you need to size up - the style you want will still be available.