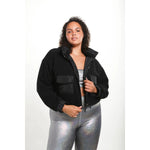 The Effortless Elegance of Sherpa
After a period of time when many of us wore sweatpants nearly all day every day, comfort has never been more important in our clothing choices than now. And it was also around this time that sherpa fabric became one of the hottest fabrics in fashion. Despite being one of the most comfortable fabrics today, it is also effortlessly elegant. If you haven't added a piece of sherpa clothing to your wardrobe yet, you're going to want to after reading this!
What Is Sherpa?
Sherpa got its name from the Sherpa people of Nepal, as it resembles the wool-lined clothing they typically wear. However, it is not the same fabric, it simply resembles it. 
You can think of sherpa as a relative to traditional fleece. Fleece and sherpa are both designed to mimic a sheep's wool or fleece, which is why sherpa is often called faux shearling or faux sheepskin. But, it is a more animal-friendly alternative to sheepskin or shearling as well as being a lot cheaper than actual wool or fur. Sherpa is a fabric typically made of either pure cotton, a synthetic fiber like polyester, or a blend of cotton and polyester fibers. Even though it's not the real thing, it feels just as soft and snuggly!
There are two sides to sherpa. One side is the wooly side with a soft and bumpy texture, while the other side is a smooth knit shell. Put together, they make up the sherpa fabric we love. Despite it being a double-sided fabric, it is quite lightweight and breathable. That is why it has become a go-to for comfortable, cozy clothing.
Characteristics of Sherpa
Some of the other characteristics of sherpa fabric are its softness and durability. It is also both lightweight-feeling while still being warm. Another great thing about sherpa is that it is good at wicking away moisture and drying quickly. That is why it is commonly used as insulation in clothing for people who ski or hike. 
Sherpa is also easy to clean, especially compared to traditional fleece or wool. It's also more breathable and less bulky than these similar fabrics. In addition, most sherpa has some stretch to it, making it very comfortable to wear. Finally, one of the things many people love is that it does not harm or use actual animals! It gives off many of the same best qualities of real animal products without harm to the animals.
Styling Sherpa Jackets 
Thanks to its insulating properties, sherpa is often used for outerwear like jackets. Similar to real animal products, it brings a little bit of glamour and playfulness into your wardrobe. Even still, it won't look out of place with a very casual outfit, either. This has made it a new staple in both men's and women's wardrobes in the last year or so.
Denim Sherpa Jackets
Likely the most popular style of sherpa jacket is a denim jacket that is lined with sherpa. These fashionable coats can be paired with just about anything. If you enjoy wearing outfits that you don't have to put much thought into, denim sherpa jackets are ideal. All you have to do is wear a basic shirt (in any color) layered with the jacket on top. As for the bottoms, your choices are endless. Don't be afraid to wear a pair of jeans and try out the double-denim look! Often, a pair of chunky ankle boots are the perfect way to top off the outfit.
Black Sherpa Jackets
Nearly as popular as a denim sherpa jacket is a black sherpa jacket. Many people would consider this to be a more formal upgrade, suitable for dressier occasions. One way to style this is with a beige sweater or shirt underneath. You can even wear black leggings or jeans for a modern, sophisticated look. This type of outfit is an excellent opportunity to wear a statement pair of boots, perhaps in a bold pop of color or a pattern like a leopard print.
Long Sherpa Coat
Have you ever wanted to walk out of the house wearing your warmest, coziest robe? Well, now you can with a long sherpa coat! Most popular in beige or camel colors, this often becomes a go-to in the winter. Put on a plain white tee with some patterned pants for an effortlessly elegant look. 
Party Sherpa Jacket
It's difficult to find the perfect coat to go on top of a dress on a night out or a more formal occasion. Luckily, a sherpa jacket is a great solution. There's no need to go overboard accessorizing an outfit like this. All it takes is your pretty dress, high heels, your jacket and you are ready to rock any party. The best part is, you don't have to worry about being cold at night or when the sun goes down.
Tips on Purchasing and Caring For Sherpa Clothing
Depending on the product and the brand, sherpa clothing can sometimes get expensive. And more importantly, you'll probably want to wear it all the time. Follow these tips to purchase the right product and care for it properly so you can continue wearing it for as long as you want.
First, always double-check the care instructions before purchasing a piece of sherpa clothing. Depending on how it is made, some items may require dry cleaning, while others will be fine in the washing machine. If taking your clothing to the dry cleaners is not appealing to you, look for a washing machine-friendly option.
Sherpa products can sometimes be bulky and oversized. Because of this, they may not look good on all body types. Make sure you choose the appropriate size and style for your body!
Sherpa Gives Effortless Elegance to Any Outfit
If you can't tell by now, we love sherpa here! In fact, we think it is a must-have in anyone's wardrobe. Its versatility means you can wear it on your most casual days and even your most formal days, too. Even the most basic outfit will instantly turn more effortlessly elegant when you include a sherpa jacket with it.