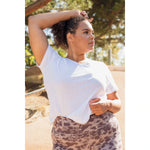 Summer Clothing Staples Everyone Should Own
With summer in full swing, it's natural to think about the summer clothing staples everyone should own. Summer should be about enjoying the moment. Getting drinks with friends, spending time at the beach, or on road trips. You shouldn't have to spend time or energy stressing over whether or not you are wearing the right outfit. Spring trends can be similar, but it doesn't quite compare to the loose feel of summer styles. Long before summer gets here, you should have several ideas for outfits. That way you can mix and match at will, always prepared for whatever life throws your way. After reading through this article, you will be prepared to approach your summer clothes shopping with confidence.
Summer Outfits for Women
Talking about summer outfits for women, there are a few necessities that need to be addressed. What is essential to a good summer outfit? What makes a good summer outfit? The answer will depend largely on you. Your own style and fashion priorities as well. But in general, a good summer outfit should include the following elements: comfort, style, and functionality.
Comfort
If your summer clothing isn't comfortable, then what is the point? Half of the fun of summer is being outside, but that comes with some heat. Dressing for the summer has a lot to do with comfort. Luckily, you don't have to sacrifice comfort for looks. You can, believe it or not, have both. Some may try to make you think that cute clothing isn't comfortable but don't listen. If you can't enjoy your summer adventures in your stylish clothing, you might not be wearing the right outfit.
Style
You don't have to look like a pioneer to feel comfortable in your summer outfits. Style is essential among the summer clothing staples everyone should own. Style can be rather subjective, though there tend to be fashion trends that you can keep up with. You are sure to feel more comfortable in an outfit that fits a trendy fashion. But if you are more comfortable in pioneer-woman outfits, then more power to you.
Functionality
Functionality can overlap a bit with the comfort element. Keep in mind what purpose and function your clothing is meant to serve. Make sure it isn't too restrictive and allows you to experience your summer without hassle. Try to avoid clothing that heavily restricts movement, or causes you to overheat.
Summer Essentials–Accessories
What is a summer essentials article without a discussion on accessories? Accessories can make or break your outfit. They can help make your life easier, or they can make your outings miserable. Be sure to choose your accessories wisely. Below are a few suggestions to help you get thinking about what accessories will work best with your summer outfits.
Hats
If you are a hat person, then it will be hard to go wrong here. With regards to up and coming 2022 summer styles, there are some things to lean toward. If you want to go simple, a trendy baseball cap will go with a lot of styles. Bucket hats and short-brimmed straw hats go well with simple styles as well. If you really want protection from the sun, a wide-brimmed sun hat will look great with almost anything. 
Bags
Bags make the list of summer clothing and accessory staples everyone should own. When it comes to bags, you should think about what you tend to tote around. A lot of people seem to be hauling around more during the summer. Sometimes it's water, sunscreen, or an afternoon snack. For that reason, large tote bags will be a big accessory this summer and will look great. But if you don't carry much, a big bulky bag may get in the way.
Sunglasses
There is little worse than being nearly blinded by the sun. While outside during the summer months, you will be exposed to the sun constantly. Thus, a need for sunglasses is apparent. A stylish pair of sunglasses with a nice hat will make for a great combo. Sporty shades seem to be up and coming, so see if you can find a style that fits your liking.
Jewelry
Gold and pearls. That's all there is to say. If you are really struggling to find in-style summer jewelry, look for gold and pearls. Of course, you don't need to drop hundreds on the actual thing. You can make cheaper replacements look like the real thing with some skill. Gold chain belts and necklaces, as well as gold hooped earrings, will be at the fashion forefront.
Best Basics for Women
If you don't already have an idea of what you want your summer outfit to look like, look below. A list of the best basics for women, which also make up summer clothing staples everyone should own, will get you started. Having some foundational building blocks to work with will hopefully inspire some new outfit ideas for you.
White T-Shirt
The humble white t-shirt cannot be underestimated. It can serve so many purposes and will match the wide range of the 2022 summer color palette. White will reflect the sunlight more than darker colors as well, so you will stay cooler in the sun.
White Dress
This does not have to be an expensive and elaborate dress. Something as simple as a maxi dress will serve the same purpose. This is an essential basic because it will make your life so easy, and it looks great. Just throw on some sandals and a cardigan and you are ready to go.
Tailored/Denim Shorts
They can be one and the same, or two different articles of clothing. They will help with the heat, look great, and the tailored shorts will look classy enough for nicer outings. 
Sandals
Find yourself a nice pair of sandals that fit the comfort, style, and functionality criteria. Sandals will match with other summer basics and complete the look. Slide or buckle sandals both work or flip flops if those are more your style. So choose whatever best fits your style.
Love Your Look
Finding a comfortable, stylish, and functional summer outfit does not have to be difficult. Knowing the summer clothing staples everyone should own will help no doubt. But having Pretty and All Boutique to help you get the outfit you love will make it easy. Take the style ideas you have to our website and make your look come alive. Be sure to check out current sales and new arrivals. With Pretty and All Boutique, you are sure to love your summer look.