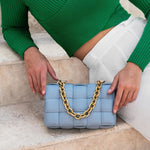 How to Find Purses That Are Both Functional and Stylish
There are two things every purse should be: functional and stylish. If you're like most people, you might think you have to sacrifice one to get the other. Luckily, that's not the case! Finding a cute purse that is functional and stylish is possible - as long as you know what to look for. If you need help finding a cute purse that meets these criteria, keep reading to know what to look for.
What to Look For in a Functional Purse
Have you ever bought a nice handbag that you thought was super cute and then started using it and realized it's not practical at all? We've all been there. Next time you go shopping for a cute purse, make sure to look out for the following things.
Comfortable to Carry
Just like you want your clothing to be comfortable to wear, you want the same for your purse. Something as simple as how comfortably the bag sits on your shoulder without sliding off is important to look at. Does it even fit under your arm? It's important to remember that what may be comfortable for you may be different from your friends. Some people feel like they can't live without a crossbody bag, while others would much rather wear it over their shoulder. That's okay! Whatever works best for you is what you should go with.
Not Too Heavy
If you're going to purchase a large handbag, it's important to find the balance between space and weight. You don't want your purse to get so heavy that you end up hurting your shoulder when you wear it. Sometimes extra metal details on the purse can weigh down an otherwise light bag. Think about what you'll be putting in your bag on a daily basis. Will it be too heavy once you put it all in?
Right Pockets
Do you like a bag that has one large pocket and nothing else? Or do you prefer individual pockets for different sized items? Everyone has different preferences when it comes to their purses. Do you regularly carry your laptop or iPad in your purse? Or is it reserved solely for a small wallet and lipstick? Maybe you like one large open pocket or something separated with a few smaller pockets. Think about what is going to be most functional for you.
Adaptability
While the dream may be to have a cute purse that goes with every outfit or occasion, that isn't possible for many people. If you don't have the unlimited funds to do this, don't worry! Just look for a purse that is versatile enough to be worn in several different functions. When doing this, we suggest being mindful of the color of the bag. If you're just starting your purse selection, look for classic colors like black, brown, or neutral shades like cream. These colors will typically go with just about everything in your wardrobe. If it's your style (and you think you can keep it clean!) white is also a great option. It is a slightly more standout option that won't go out of style quickly like trendy shades such as lime green or yellow.
Keep It Proportional
Balance is key in your wardrobe! You don't want to be carrying a handbag that is strangely big or too small for you. The size of your handbag should be proportional to your size. If you are tall and curvy, you'll want to find a purse that doesn't get lost when you wear it. If you are more petite, stay away from a bag that could swallow you. 
Types of Purses
Now that you know how to find a functional purse, the world is your oyster. There are so many different styles of cute purses out there for you to choose from. We could list them all, but we'd probably be here all day. Instead, we'll share some of our favorites.
Backpack Bag
This is a more stylish version of the backpacks you may have used when you were in school. These can be virtually any size, though they are typically smaller than a standard backpack. These are highly functional for everyday wear.
Barrel Bag
A barrel bag is a cylindrical bag that has two short straps either for hand-carrying or a shoulder strap for over-the-shoulder use. You could consider this a slightly more structured type of duffel bag. 
Basket Bag
Basket bags are becoming more and more popular. They are usually made of thin pieces of either wood or wicker that are woven together. These make for a fun, whimsical addition to a dressy casual outfit. 
Belt Bag
Tiny but mighty, a belt bag is a hands-free type of purse that wraps around your waist and clicks with a buckle. These are a more structured, more versatile, and slightly more formal option than a fanny pack. For a fun, casual accessory to an outfit, you can count on a belt bag.
Crossbody Purse
These are one of the most popular and versatile handbags out there. There is a long shoulder strap that can be worn over your shoulder or across your body. These bags come in a wide variety of shapes and sizes, depending on your needs. 
Clutch
A clutch is a small bag that can easily be held in your hand. This s often the go-to purse for formal occasions like fancy dinners or weddings. 
Tote Bag
Tote bags are becoming a very popular option for everyday use. From grocery shopping to running errands, it is the catch-all bag that will come in handy anywhere. Tote bags are generally made out of a thin canvas or cloth material and feature some type of print on one side. One tip we've learned the hard way: if you're going to be packing your tote bag full of heavy items, make sure the straps are strong enough to carry that weight!
Wristlet
A wristlet is any minimalist's best friend. It's small and discreet, making it perfect for carrying only the essentials. You can likely fit your credit card, ID, lipstick, keys, and a little bit of cash. Some wristlet styles also come specifically designed to hold certain smartphones. You can simply loop it around your wrist when you'll be on the go, so you aren't weighed down by a larger bag.
Purchase a Nice Handbag Today
If you're on the lookout for a cute purse to add to your collection, we hope you keep in mind its functionality. You don't want to get home from the store having spent a lot of money on a purse only to realize it isn't actually going to work. You can choose both function and style with the right bag!