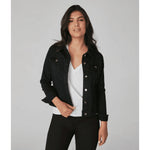 The Transitional Power of a Great Denim Staple
If there's one type of fabric that is flattering on all body types, it is denim. While certain other wardrobe pieces go in and out of style with the seasons, good denim staples will last you for years. If you're interested in purchasing some trendy pieces, denim can pair well with them. And instead of needing to purchase new items every season, it's good to have some pieces that you can go back to no matter the time of the year. 
Denim Essential Wardrobe Pieces
There are a few denim essential wardrobe pieces every woman should have in their closet. Their transitional power will guarantee that you will get use after use out of these items and be able to keep them for years to come.
Dark Slim-Fitting Jeans
Dark washed jeans are the most versatile tone of blue jeans. You can easily dress them up or down with your choice of top. For example, they are instantly dressed up if you style them with a beautiful blouse. Meanwhile, they can be a great casual, classic look with a basic t-shirt. 
Universally, the most flattering cut in dark-washed jeans is a slim cut. That doesn't necessarily mean you need to purchase skinny jeans, though. If you don't like that style, you can opt for a slim straight-leg fit. 
Since these are such versatile items, you'll more than likely want to be wearing them all the time. That's why you should invest in a high-quality pair that is made with a strong fabric and maybe a little stretch. 
Denim Shorts
A lot of great summer outfits begin with a trusty pair of denim shorts. There are tons of different cuts, styles, and washes you can pick from, so don't be afraid to look for the right pair. Find the cut that you love and then make sure you invest in high-quality fabric. 
If you think you'll be wearing denim shorts a lot, it might be beneficial to purchase a distressed pair and a non-distressed pair. The distressed pair will look great for casual summer outfits, while the non-distressed pair will easily turn dressier if you need them to.
Denim Jacket
Denim jackets are an excellent layering piece for just about any casual look. They look great over dresses, tank tops and shorts, and so much more. You can even wear it with a pair of jeans for a double denim look. As with all the other denim wardrobe pieces, you can choose the kind of style and wash that you like best.
If you're looking for a classic denim jacket that will never go out of style, stick with a medium wash that will hit you at your hips. If you'd like a more modern look, you can pick a lighter wash or even a cropped jacket. Looking for more inspiration on styling your denim jacket? We'll share some of our favorite tips below.
Loose Light-Wash Jeans
Light wash jeans look great on just about everyone if they're a looser cut. For example, Levi's most popular 501 jeans have been the favorite for decades for a reason! A light-wash pair of loose-fitting jeans will become your go-to for a casual outfit or add some edge to a dressed-up look.
Styling a Denim Jacket
A denim jacket is one of those pieces you can truly wear all year round. No matter the season and no matter what current "trends" are, a denim jacket will always be in style. These are some of our favorite ways to style denim jackets throughout the year.
Denim on Denim
Don't listen to anyone who says you can't wear denim on denim! You can and we even think you should! Keep in mind that the denim doesn't necessarily have to match. Instead, just make sure you keep in mind the proportions and keep everything else simple. Go for simple accessories and a crisp white button-down underneath to keep it sophisticated and polished.
Denim With Summer Dresses
Do you ever find yourself needing a light jacket or sweater to go over a summer dress? Maybe your event is taking place at night and you know it will get chilly later. Instead of finding the perfect matching sweater or jacket for every dress you own, pair it with a denim jacket. We almost always take a denim jacket with us when we're out in a summer dress. It is the perfect piece for when it gets a little bit cooler at night and you can also tie it around your waist to create shape, too! It doesn't matter what length of dress you're wearing, a classic fitting denim jacket is extremely flattering. 
Denim With Leggings
For the ultimate easy outfit you don't even have to think twice about, pair a denim jacket with your favorite pair of leggings. With a simple cotton tee underneath, you instantly have a comfortable and stylish outfit. And if you think it might be a little bit cooler, you could also wear a hoodie underneath your jacket. 
Denim With Athleisure
Athleisure has become one of the "it" fashion trends of the last few years. The best part is, it's actually comfortable! Try adding a little something extra by topping your favorite sweatshirt and sweatpants with a cropped denim jacket. Your look will be much more pulled together and slightly less casual for running errands, seeing friends, and so much more.
Denim Is the Ultimate Transitional Piece
Denim wardrobe pieces have stood the test of time for decades. Since jeans were first introduced to the market in the 1870s, we haven't looked back. Purchasing denim items like jeans and denim jackets is one of the best investments you can make in your wardrobe. If you buy quality pieces, you can guarantee that you will be able to use them repeatedly for years to come. It doesn't matter what time of the year it is or what is considered trendy at the time, you can always feel stylish when you put on your favorite denim pieces.