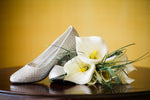 Your Wedding Day Will Be a Busy One - Don't Overlook Comfort
It's easy to put your look before everything when it comes to your wedding day. After all, it's a day you'll likely have once and you want it to be perfect, including how you look. So you might think, who cares? I'll wear an uncomfortable dress or shoes so I can look my best on the day! The only problem is, you won't look your best if you're not comfortable. If you'll be teetering on your stilettos during your first dance or tugging your undergarments down every 5 minutes, you won't be comfortable. You also won't be able to enjoy your big day. 
Comfortable Wedding Dress
Choosing your wedding dress is a moment many women imagine their entire lives. And when making this decision, it's common to only think about how you look and not how comfortable you are. Don't overlook a comfortable wedding dress. Obviously, you'll see yourself wearing the dress standing up, but it's important to try it sitting down as well. If you are wearing the same dress for the wedding and the reception, you'll want to make sure your wedding dress is comfortable to sit and eat your meal in. 
As you're choosing your dress, keep in mind that bridalwear often runs smaller than other clothing. If you normally purchase a size 8, don't be alarmed if you need to purchase a 12 this time. Forget about the numbers - nobody besides you will know anyway! In addition, don't insist on a smaller size because you plan on losing weight before the wedding. Order the dress that fits you now. After all, a gown is easier to take in than it is to let out.
Wedding Day Bridal Undergarments
Being comfortable on your wedding day begins with your wedding day bridal undergarments. From that very first layer up, you need to put comfort at the front of your mind. Shopping for your wedding day bridal undergarments may not be as fun as looking for your dress, but it's still important. 
You should use your first dress fitting as your chance to figure out what kind of lingerie works best. Try not to purchase before that point because you won't know exactly what you need. For example, some dresses may not require a bra as it is already structured enough on top. Once you've decided on a dress, you should call a lingerie store and make an appointment. This way you can ensure that the pieces you buy will fit properly. You should also consider taking a picture of your dress, so they can get an even better impression of what you need.
Your three main choices for undergarments will be classic, seamless, or shapewear. Voluminous dresses or ones made of thicker fabrics will allow you to have more freedom with your undergarments. Slim-fitting dresses or those with a single layer of material will often require seamless undergarments. Finally, dresses that highlight specific body parts might call for strategic shapewear. Luckily, you're not stuck with nude-colored bike shorts if that's not what you want. There are more beautiful options for shapewear than ever before right now. Just make sure it fits you 100% correctly.
Comfortable Wedding Shoe Styles
Whether you're gearing up to bust a move on your wedding night or you're just worried about all the standing you'll need to do, comfortable shoes are a must.
Block Heels
If you're looking for a pair of shoes that will give you the height of heels and the comfort and walkability of flats, check out block heels. They are much more comfortable and can be perfect for an outdoor wedding. No more sinking into the grass!
Flats
Flat shoes are a practical and comfortable choice for your wedding shoes. You can choose chic ballet flats or even flat tennis shoes! Flat shoes are another style that you will not have to worry about even at an outdoor event. 
Espadrilles
If your wedding is taking place on a beach, espadrilles can be a great option. They perfectly embody the vibe of a beach wedding while also being extremely comfortable and supportive. Plus, they come in different heights so you can choose a pair that works best for you. They even come in a wide range of colors, which can make them perfect for your bridesmaids too.
Tips for Comfortable Wedding Shoes
Even if you purchase one of the comfortable shoes above, you'll still want to make sure you take certain steps to make them even more comfortable. Follow the steps below to keep your shoes from giving you painful blisters that get in the way of your wedding day.
Break In The Shoes
Don't forget to break in your wedding shoes before the big day! It might seem like a small thing, but shoes that have been lightly worn will be much more comfortable than ones that are completely fresh from the packaging. You can start by wearing your shoes at home for 30 minutes at a time about a week before your wedding to make them more comfortable. 
Purchase Inserts
Potentially even more important than your shoes themselves is purchasing a pair of cushioned inserts. There is a wide array of insert options on the market and you can even have some customized for your feet. If you're looking for an all-encompassing solution, look for a gel or full insole that supports the entire length of your foot. But if you have more targeted concerns with your feet, you can opt for smaller pads that will support the arch, toe, or ball of your feet. 
Choose Heels That Are a Little Large
If you want to make sure there's a little bit of wiggle room in your shoes, choose a size that is either one-half size or one full size above your normal shoe size. When you test them out before purchasing, you'll want to find the right balance between having room at the toe and heel and not having too much room that makes moving difficult. 
Don't Overlook Your Comfort!
All in all, everything you will be wearing on your wedding day should be chosen with the thought of comfort first. From your undergarments to your dress and even your heels, comfort is everything. You should be able to enjoy your big day without blisters on your feet or too-snug shapewear making you miserable.