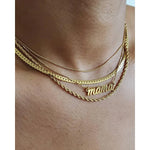 What you wear is an extension of yourself. It is a part of every first impression. And, if you want people to see you as trendy, your wardrobe has to be able to evolve with the times. Gen Z fashion is not for the faint of heart – it is all about being bold and confident with your choices. But if you're wondering what Gen Z is wearing and how to keep up, this is the article for you. 
Gen Z Fashion - The Clothes
When it comes down to it, Gen Z fashion is all about nostalgia. Don't be afraid to pull from trends from across the eras. A 20s-style pearl necklace? Yes, please. A 70s fringe moment? Absolutely. A Y2k platform shoe? Iconic. Gen Z is taking our favorite trends from the past century and bringing them back in style. Here are some of the staples you should keep in your closet to fit in with the younger generation.
Athleisure
Nothing is as casual, but stylish as athleisure. This trend is definitely here to stay. So make sure you stock up on leggings, sports bras, and cute athletic tops. Patterns are especially popular right now. But, when in doubt, go with matching pairs, like this sports bra and legging set! With these styles, don't be afraid to show a little tummy, if you're comfortable. Gen Z fashion trends show that body positivity is on the rise. 
Knits
These aren't your grandmother's knits. Gen Z has found a way to make knitwear have sex appeal and, honestly, we're all for it. There are so many options to merge with your own personal style. You can choose a bralette, a cropped sweater, or even a dress. Mix and match textures with different types of knits, too. This style is incredibly versatile.
Fur Trims
Especially in the cooler seasons, fur trims are all the rage. With this trend, don't be afraid to try out some bold, beautiful colors. Pair it with athleisure or some funky flared pants to make it extra chic. When it comes to current fashion trends, this one will keep you cozy and cute. 
Slip Dresses
Silky. Soft. Tasteful. Slip dresses are a comfortable and beautiful way to amp up your wardrobe. They can be dressed up with some heels and statement jewelry. Or, they can be dressed down by adding a cropped sweater. That way, you're checking both knits and slip dresses off your list. 
Elevated Basics
Elevated basics will always be a current fashion trend. We love t-shirts with cutouts to add some extra flare. Or even some classic palazzo pants for a breezy, effortless look. When it comes to elevated basics, you want something that is versatile, but has a bit of extra oomph. What makes your basics different from the rest of the crowd? Try mixing it up with bold colors, cutouts, and new textures.
Gen Z Fashion - The Accessories
Your accessories can really set your outfit apart. Especially in the days of fast fashion, you might have the same top on as the person next to you. But with accessories, you can put your own twist on classic styles. There are a few accessories that Gen Z seems to absolutely love. So here are some add-ons for your outfit that you can keep both trendy and unique to you. 
Chunky White Sneakers
Gen Z loves a chunky white sneaker. It is a casual, but clean-cut way to complete any outfit. Sneakers with a bit of a platform are incredibly in style. Give a boost to your style and your height. But, be sure to keep your shoes clean for a polished look. 
Bucket Hats
Originally popular in the 80s and 90s, these hats have made a strong comeback. Bucket hats became popular in street fashion, but have become an everyday style for the new generation. Whether you prefer neutrals, bright colors, or patterns, there is a bucket hat for you. Check out these Instagram outfit must-haves. 
Tiny Sunglasses
Now, onto one of the most controversial trends to hit the scene. Tiny sunglasses, especially ones with a bright colored tint, are taking social media by storm. Some are retro-round, and others are a bold cat eye. Either way, we are falling for this style. 
Small Bags
Purses will always be in style. They're a necessary addition, especially when pockets can be so hard to find. But huge totes have gone out, and small purses are in. These bags are big enough to hold your essentials, but small enough that they don't distract from your outfit. Crocodile prints and chunky chains are especially trendy right now. 
Gold, Gold, and More Gold
Gold jewelry is an absolute must for Gen Z. Current fashion trends are leaning toward not one, but multiple gold necklaces to upgrade your outfit. Find some gorgeous gold chains to layer and bring it to the next level with some statement earrings. 
Keeping Your Pup In Style
Not only is Gen Z styling themselves, but they're also styling their pets. Try an upcycled dog collar, a cute patterned leash, or a precious little bandana for your pooch. You'll be turning plenty of heads when you take your pup for a walk. 
A Brand With A Message
Gen Z is a lot more conscious of where their clothes are coming from. When they're choosing between brands, they want to know not only if the clothes are in style, but also if the brand stands for something bigger than itself. Clothing brands that offer unisex or gender-fluid clothing are all the rage. Additionally, brands that promote body positivity and all-inclusive sizing are a must. Ultimately, Gen Z wants their money to go toward businesses with firm ethics. 
Keep On Trend With Pretty & All
If you're looking for a size-inclusive small business to support, Pretty & All is the perfect place for you. We offer a hand-picked, curated collection of all things pretty. We want our clothes to look good on every body, not just those who fit into "standard" sizing. Stay in style while supporting a girl boss who is following her dream. When in doubt, trust Pretty & All.