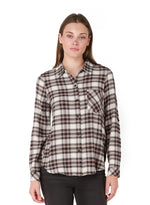 The Power of Patterned Clothing
There is no need to fear patterns. Zig-zags, plaid, stripes, polka dots, checkered patterns, and more can bring an otherwise flat outfit to the next level. That is the power of patterned clothing; it is not something to be avoided, but rather a way to express yourself.  If you are feeling overwhelmed by the power of patterned clothing, you are not alone. Many patterns are loud and call attention to the wearer. Too many patterns can clash. There is nothing wrong with styling your patterns how you choose, but if you are a pattern newbie who wants to incorporate patterns into your wardrobe effortlessly, you may want to start smaller. In this article, you will learn about the power of patterned clothing, the different patterns you have to choose from, how to wear trendy patterns, and the types of patterns in clothing. 
Different Patterns
Before you throw together an outfit comprised of the first polka dot dress you see, first you should look at all your options. There are many different patterns to pick from and this list is by no means comprehensive.
Plaid
Plaid is a fall favorite. It is a trendy pattern composed of multiple vertical and horizontal lines of multiple colors. Plaid is often the pattern of choice for flannels. 
Gingham
Gingham is often confused with plaid. While plaid merely consists of overlapping vertical and horizontal lines to create the pattern, gingham is a bit simpler. Gingham somewhat resembles the weaving of a basket. Horizontal and vertical lines overlap to create distinct squares, usually over a white background.
Paisley
Paisley is a bold option often associated with the sixties. It is a floral pattern marked by a distinctive swirling tear-drop shape. It is often very colorful and bold. Paisley pieces are bound to draw attention.
Pinstripes
Pinstripes consist of lines running vertically, often white or grey. The lines elongate the figure offering a powerful look. The power of patterned clothing can really be felt with pinstripes. This pattern is often used for business attire.
Herringbone
Named for its resemblance to the bones of a herringbone fish, the herringbone pattern consists of slanted lines forming somewhat of a zig-zag pattern. Black and white or gray and white are common colors used in the herringbone pattern. The herringbone pattern is used in a variety of styles from business professional to casual. 
Polka Dots
Polka dots are a classic pattern. This whimsical pattern consists of multiple circles. Polka dots can be bright and colorful, or monotone and elegant. Despite a clownish reputation, polka dots can work as a great statement piece in any ensemble. 
Stripes
Stripes are another simple, classic pattern with a lot of power. The power of patterned clothing like stripes is the power to transform your silhouette. Long, vertical lines make you appear taller and slimmer. In contrast, horizontal stripes are frowned upon by many fashion enthusiasts for making the body appear wider. Horizontal lines are still a powerful tool in the fashion arsenal. The width and frequency of the stripe affect how others see it. The eye moves quickly over small, tight stripes, but moves slower over chunky stripes. The tight, horizontal stripes have the same effect as the vertical. It draws the eye up and down the body rather than side to side. Of course, it is important to mention that this is all arbitrary. There is no reason to make yourself seem smaller except for personal preference. 
Florals
Everyone loves flowers. They scream spring and all the fun that comes with it. It is no wonder fashion designers have embraced floral patterns. Floral patterns are peaceful yet, energizing, like running through a field of daisies or a vacation. 
Trendy Patterns 
Understanding what patterns exist is only one part of the equation. You also need to know how to wear them. If you are nervous about incorporating patterns into your wardrobe, here are some guidelines you can use to get started.
Choose a Color Scheme
Patterns can quickly become an overwhelming eyesore. A great way to prevent a clashing outfit is to choose two or three colors and stick to them throughout the outfit. Black and white, green and grey, and pink and yellow are all great color combos. If you want something even more cohesive, stay in the same color family, for example, brown, tan, and chocolate. Pair a black and white striped shirt with a pair of blue denim jeans. Pair a green and grey plaid skirt with a black shirt. You can either choose colors that are the same tone or choose contrasting colors. A color scheme with colors with the same tone will flow together. The look will be very cohesive and the pattern will not stand out as much. Contrasting color is a great opportunity to show off the power of patterned clothing. For example, a fluorescent green polka dot will pop against a black background. 
Pick Your Pattern
The easiest way to begin incorporating patterns in your wardrobe is, to begin with, one pattern. Shirts are the easiest place to start. A patterned shirt like stripes or plaid paired with solid-colored pants is classic and elegant. A viewer's eye will go right to the pattern and will not become overwhelmed. 
You could also mix patterns. There is no right or wrong way to mix patterns, but if you want some suggestions, we have you covered. Stay within the color family. This will make the look stay cohesive. While the various lines and shapes risk being distracting, the coordinating colors will bring it together.
Be bold and choose classing patterns. Wear a polka dot shirt and a paisley skirt. It's loud, it's bold, and that's ok. There is no reason to shrink away and abide by arbitrary fashion rules.
Types of Patterns in Clothing
At the end of the day, style is personal and rules are merely suggestions. Mix every type of pattern in clothing and color if it makes you happy. The power of patterned clothing is that it makes a statement. Bold patterns say I am here and you will not ignore me. This can be helpful when you need to make an impression or want to be remembered. Whether that is a job interview, big meeting, date, or just a walk down the street, embrace the power of patterned clothing. 
If you are looking to add trendy patterns to your closet, consider checking out Pretty and All Boutique. Their expansive selection of trendy patterned clothes will awaken you to the power of patterned clothing and you will never want to go back.