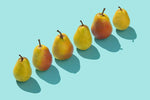 How to Style a Pear-Shaped Figure
There are a few different body shapes out there, and one of the first steps to having fashion and style options that you love wearing frequently is to determine which unique body shape you possess. Once you know what type of body figure you have, you can better determine which fashion and style options will compliment your body and continue to make you feel beautiful and confident. There are many great options no matter which body type you have. In this article, we'll discuss how to style a pear-shaped figure and which style pieces look great on a pear body shape, including which dress shapes to consider for a pear-shaped body.
What Is a Pear-Shaped Body?
The description of a pear-shaped body is relatively large hips that are wider than the shoulders and bust. This characterization gives the body a pear shape in appearance. Some other notable features of a pear-shaped body include proportionately slim shoulders, slim arms, and a relatively defined waist. If you are looking to highlight the features of your pear-shaped body and wear clothes that compliment this unique body shape, there are a few different accessories and clothing options you can consider adding to your distinct wardrobe and style selection. There are many beautiful styles and fashion options for each unique body shape to try.
If you are unsure how to figure out your body shape, you can measure your waist, shoulders, and hips. For many females, the main body shapes include triangle/pear, rectangular, inverted triangle, hourglass, and oval/apple. It can also be possible that your body shape falls into more than one figure category, such as if your body measurements are close together. If so, consider all your body shapes when styling and making fashion selections. The most important thing to remember is that whatever unique body shape you have, your body is beautiful, true to you, and need not change. Now, you can focus on finding pieces you love.
Styling a Pear Body Shape
A triangle or pear-shaped body has a wider bottom half, often combined with a narrower top half, wider thighs, and wider hips. If your proportions align more with a triangle or pear shape, you may want to draw more attention to your upper half to provide balance. You can achieve this by choosing brighter colors or some prints for the top half of your body. A sweetheart or wider neckline can also broaden your shoulders. You might also consider layering tops to increase the volume of the upper half of your body. A key goal is to have your tops be the right length. Your top pieces should hit the widest area of your hips.
Avoid extremely cropped shirts and extremely long shirts. As you learn more about your body and its unique shape, you can expand and evolve your criteria for successful outfits. A push-up or padded bra can also work to accentuate the top half of your body if one aligns with your body and comfort level. Wearing darker colors on the bottom half of your body can also slim down your hips to a degree. To style a pear body shape, consider bright or print tops, dark bottoms, tops with a wide or sweetheart neckline, tops with statement sleeves, statement necklaces, bright scarves, and off-the-shoulder tops or dresses.
Bright or Print Top
For a bright or print top, consider a white or another light-colored shirt. This option can keep you cool during the warmer weather months and highlight the upper part of your pear-shaped body. 
Dark Bottoms
For a pear-shaped body, you can choose to take advantage of your curvy lower half and wear figure-hugging pieces or consider dark bottoms. For dark bottoms, try black or indigo bottoms.
Wide or Sweetheart Neckline
A top with a wide or sweetheart neckline can also complement a pear shape. Consider a top with a wide, sweetheart, or otherwise deep neck, such as a V-neck.
Top With Statement Sleeves
The best tops for a pear shape can vary by sleeve length. For a shorter sleeve, opt for embellished or wide styles. For a longer sleeve, opt for tapered, puff, or cap sleeves.
Statement Necklace
There are also jewelry options, including playing around with patterns, colors, and statement pieces. Try a statement necklace to accentuate and draw focus to your neckline.
Bright Scarf
For another idea to make a statement with your outfit, try a statement scarf for warmth or simply to elevate your style. There are wrap scarves, leopard, bright, and more to choose from.
Off-The-Shoulder Top or Dress
By choosing a wide or off-the-shoulder neckline, you can make your shoulders look broader, thus balancing out your hips. Play around with colors, patterns, and prints per your taste.
Dress Shapes
In addition to an off-the-shoulder dress, other dress shapes look great on a pear body shape. Some dress shapes to consider for a pear-shaped figure include fit-and-flare dresses, empire dresses, a-line dresses, and wrap dresses.
Fit-And-Flare Dress
A dress that has fit and flare features a fitted upper torso and a full skirt or bottom area. A fit-and-flare dress is universally flattering as it works to mimic an hourglass shape.
Empire Dress
An empire style can define the smallest portion of your upper torso, which is typically under your breast area. Empire dresses gather below the bust to accentuate your upper body.
A-Line Dress
For another dress shape option, consider an A-line dress, which also gives the impression of an hourglass figure with its A-shape. This style is flattering for all body sizes and shapes. 
Wrap Dress
A wrap shirt or dress can provide more waist definition to draw attention to the upper part of your body. It's another fantastic option for pear shapes and more by flattering the bust area.
Styling Your Pear-Shaped Figure
There are many beautiful clothing and accessory options to style your pear shape. For more ideas on how to style a pear-shaped figure and more, browse Pretty & All today.