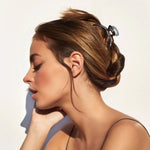 Style Your Hair to Be Your Greatest Accessory
How to Style Your Hair to Be Your Greatest Accessory
You put time and energy into curating your style, including wardrobe staples for each season and some great accessories to take your style up a notch. But have you given thought to how your hair could be one of your greatest accessories? With so many beautiful options and styles for each season and trend, there are endless opportunities to match your hair to a given look or mood. In this article, we'll discuss how to style your hair to be your greatest accessory, including some different techniques and tips for different hairdos, hair styling, and unique, in-style hair you can rock with confidence.
The Greatest Accessory for You
There are many great hairstyles and accessories to choose for your personality and daily style. Great hairstyles also complement you by framing your face and showing off your best features. Did you know that having a hairdo you love on a given day can even boost your mood, behavior, and outlook? Studies reveal that feeling good about your unique hair has links to health, confidence, and feeling more in control of your life and choices. Fabulous, healthy hair can also make virtually any outfit, even a t-shirt and jeans, look like a million dollars. The best part is, your hair is an endlessly valuable accessory that you already own. 
The hype surrounding hair styling and accessories shows no signs of waning, but what if you're unsure about how to wear different hairstyles and accessories to suit your style and flatter you? One of the best secrets to being more of a hair accessories person is to wear the different accessories, not let them wear you! Keep your hairstyles subtle, simple, and above all, choose a band, scarf, clip, scrunchie, or other that you feel truly comfortable wearing. Some ways to style your hair to be your greatest accessory are with baby clips, lots of barrettes, a stand-out headband, a scarf, an elevated scrunchie, a claw updo, a floral flash, or some bold jewelry.
Baby Clips
Few things say Y2K more than some bold baby clips. You can choose from a variety of bright colors to make them stand out in your hair, or match your baby clips to your outfit in color, pattern, or texture. Baby clips also look great with a bold part or some hair braids for a playful look. Part your hair in the middle and apply different stylish baby clips of your choosing to each side. You can have fun with different clips on each side, the same side, or try a few clip rows.
Many Barrettes
One of the biggest trends this year is embracing embellished glamour. Don't be afraid to dazzle day or night with some statement hair accessories such as an abundance of bold and glamorous barrettes. Pearls, diamonds, or statement colors all go great with a number of looks and occasions. Mix and match for a truly unique look and don't be afraid to go bigger and bolder.
Stand-Out Headband
There are many ways to accessorize your hair with a headband. You can go simple, bold, or a mixture of different looks and styles. Do you want your headband to match your outfit in a color palette or complement your outfit with a new, bold color or several colors? There are different types of headbands for different looks, including silk or tied. There are also some very cute options out there if you want to add a little glamour to your hair, such as with a rhinestone band.
Colorful Scarf
If you want a simple but beautiful hairdo, consider adding a scarf to your rotation of hair accessories. There are colorful silk options to choose from, and these long scarves look great as an easy and quick way to elevate your hairstyle. Try a scarf to tie off your ponytail or to wrap around your bun. You can even incorporate a scarf into your braids or tie off a section of hair.
Elevated Scrunchie
Scrunchies are back in a big way and this trend may be here to stay now. One of the biggest representations of 90s culture and fashion, many classic TV series from the 90s and future years featured one or more characters rocking a scrunchie hairstyle. Scrunchies are another cost-effective, quick accessory idea that's available in a wide range of sizes, colors, and fabrics. 
Claw Updo
For a chic look, try a claw updo with a claw clip of your choice. An easy out-the-door look, a claw updo looks great with slicked hair or when you're fresh out of the shower and out the door. It's a timeless look you can adapt to a range of hairstyles and personal tastes. For a French twist look to your claw updo, take your hair in one section and continue to twist the section, keeping your thumb at the base of your hair to collect any loose strands. Now clip it in its place.
Floral Flash
If you want to take your in-style hair to the next level, consider adding some flowers to your hair. There are a lot of really creative ideas for adding flowers to your hairstyle. Consider a floral headband or intermittent florals throughout your hair. You can pin different flowers in different areas of your hair, individual flowers throughout, or one or more chunks of florals in your locks.
Bold Jewelry
If you like a bold and embellished look, try playing around with statement jewelry. Chains, brooches, or chunky jewelry can add a fun twist to your ponytail or braid. Harness your inner goddess, go for a look straight out of Star Wars, and more, depending on your taste. You can also wrap a chain or thin necklace around your ponytail base.
Styling Your Hair to Be Your Greatest Accessory
These ideas are just a few of the bold and creative ways to style your hair as your greatest accessory. For more tips and unique accessories, browse Pretty & All today.