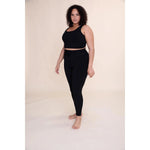 How to Style an Hourglass Figure
How to Style an Hourglass Figure
So, you've taken the time to figure out your body's unique shape and you've come to find that you have an hourglass body figure. Or perhaps you're still trying to determine what an hourglass figure is among the other body figures. Learning about your unique body shape is a vital step in the evolution of your style. This knowledge can guide you on what styles to tweak or avoid, what silhouettes to consider wearing, and how to build the best wardrobe for you. In this article, we'll discuss how to style an hourglass figure so you can have a wardrobe that's full of many different pieces you can wear regularly and love wearing to show off your beautiful curves every day. 
What Is an Hourglass Figure?
Hourglass bodies are the only body shape without a produce label, and the hourglass figure is generally considered the least common body shape. As an hourglass-shaped person, the defining body proportion is the shoulder/bust measurements are within a half inch the same size as the hips, and the waist is defined, meaning it's around 25% smaller than the bust/shoulders and hips. Hourglass figures can be on a dramatic size scale. Your shoulders and hips may have a softer, more rounded look, instead of the sharp angles of an inverted triangle or rectangle shape. A stereotypical hourglass figure has a narrow waist, full bust, shapely legs, and full hips.
However, an hourglass body can be less full in some areas of the body, and more full in other areas, while still having an hourglass appearance. A person may carry more weight in their abdomen, and their waist may thicken with age, childbirth, menopause, and various other life changes. You can also be petite-sized but still have hourglass-like proportions. The hourglass body type gets its name due to its resemblance to an hourglass, which has wider upper and lower parts and a narrower middle part. However, whatever your body shape type, the most important thing to remember is to love and embrace the beautiful figure you have in daily life.
How Do You Style an Hourglass Body?
In working to change the narrative that any one body shape is the ideal shape, it's also important to know that there are many beautiful style options for any given body shape. You need not feel hopeless or at a loss when you look at your wardrobe options and consider some additions. When your hips and shoulders are around the same size, and you have a defined waist as an hourglass body type, one of the main things to avoid is shapeless, oversized pieces. There is a great deal of variety in the hourglass figure type. Depending on your bone structure, height, weight, and size/fit, you can highlight your features in a range of different, beautiful ways.
The important focus is the fit. Avoid any ill-fitting pieces, such as tops and tunics that can hang off your bust. Tops with high necks or that are overly embellished may also not be the most flattering for your unique hourglass shape. You can highlight your hourglass features with pieces such as a body-hugging dress, v-neckline top, scooped neckline top, tie or belted waistband, high-waisted bottoms, pointed shoes, flared bottoms, or with some vertical stripes mixed in. 
Body-Hugging Dress
Dresses that hug your body are a perfect wardrobe piece if you have an hourglass shape. A bodycon dress that is form-fitting can accentuate and outline the features of your silhouette, especially if it's ruched. Some other great dresses for an hourglass are V-neck, flare, and wrap. 
V-Neckline Top
For a top idea, consider adding a v-neckline top to your essentials. A v-neckline helps to elongate the neckline, which can look very favorable on an hourglass shape. You can also try a one-shoulder top. There are many different options for each season that can have a v-neckline.
Scooped Neckline Top
Another top idea for elongating your neckline is a scooped or U-shaped top. An open neckline is a classic and universally flattering look that works to draw the eyes up to your face. An open, scooped neckline can give balance if you have a large bust, narrow shoulders, and/or wide hips. 
Tie or Belted Waistband
To accentuate and show off your waistline, a tie or belted waistband is the perfect outfit addition to a v-neckline or scooped neckline top and also looks great with a body-hugging dress among various other options. A waistband can add some flare, jewelry, and/or color to a current look.
High-Waisted Bottoms
For an idea of what bottoms to wear, consider adding some high-waisted bottoms to your hourglass wardrobe. There are many options you can play around with, including bottoms with bold colors, patterns, or that are khaki-colored or denim. Khaki and denim are classic essentials.
Pointed Shoes
Hourglass body figures should avoid square or round-toed shoes as these likely won't compliment your figure as well as some other choices. Some great shoe options for an hourglass or curvy body are peep-toe, pointed, or chunky shoes to finish the line of your leg.
Flared Bottoms
Another bottom idea is flared bottoms. A 70s-era trend that continues to come back and reinvent itself, flared bottoms can help to balance your hips and shoulders and finish the line of your leg or otherwise draw the eyes down to your feet. Pair these with some shoes you want to show off.
Vertical Stripes
Hourglass or curvy body shapes can pull off a great many patterns, including stripes. Consider adding some vertical stripes in your top, bottoms, or dress choices to accentuate your curves, elongate your figure, and add some cute flair Vertical stripes can also maximize your height.
Styling Your Hourglass Figure
There are many great options to consider and play around with as an hourglass body type. These pieces and more from Pretty & All can effectively elongate your figure, accentuate your curves, and celebrate your unique and beautiful hourglass shape.